Every Easter sees the start of the annual pilgrimage season in the little town of Lourdes in the French Pyranees. Over the next seven months, five million visitors will flock to the town to drink or bathe in the spring water there. It's famous for its miracle cures. Most of the pilgrims are Catholics, many are ill and disabled. The Savvy Traveler's Martin Stott joined a group heading out from London with Tangney Tours.
Pilgrimage to Lourdes
By Martin Stott

I'm sitting in the airport lounge surrounded by wheelchairs. Some of my fellow passengers look so ill you wonder if they'll survive the effort of getting to Lourdes. It's amazing that so many people can still be taken in by the idea of miracle water.

The Lourdes story begins in 1858, when a poor 14-year-old French girl saw a ghostly woman in white, in a shallow cave near the town. Over a month, Bernadette Soubirous saw the woman eight times. The vision said she was the Virgin Mary, she said she wanted a chapel built on the site and for people to come in procession, and she revealed that spring.
From the very early days, the spring water showed miraculous qualities. First, a woman with a paralyzed hand was healed. More cures followed and the crowds haven't stopped since.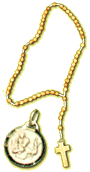 Today they come by train, as well as plane and coach, on pilgrimage to Bernadette's grotto. So many are ill they've had to build several hospitals to help care for them while they're here. Lourdes is a strange place. The narrow, windy streets leading to the grotto area are packed with gift shops full of religious rubbish: plastic water bottles in the shape of Mary, pictures of Christ being crucified with eyes that blink, and religious alarm clocks.
Even descendants of Bernadette's family own a gift shop here. It seems obscene, but Phillipe Nierdoll, president of the Religious Retailers Association in Lourdes, denies the shops are in bad taste.
Nierdoll: We would not have these shops, and so many, if there were not a need, as we say, un besoin de consumateur. The only explanation is the size of the crowds becoming to Lourdes four and a half to five million visitors this represents so many persons, which is why we see so many shops.
And he's right, there is a need. Pilgrims crowd 'round the shelves buying the stuff. Maybe the miracle of Lourdes is that it sells. But once you get near the grotto, the shops end. The area feels and is sacred. There are now three chapels here and a huge underground basilica where up to 25,000 people can take mass.
Afterwards, processions are led from the basilica to the grotto at night by candlelight. It's an impressive sight. The spring water has been put on tap so people can drink and bottle it. They also queue to bathe in it. Seventeen special baths have been built near the grotto. Volunteers lead you in, help you undress, throw a cold wet towel over you to hide your modesty, and then it's a quick chilly dunk.
You freeze to death. You wish to God, Our Lady took you there and then. But then, when you come out and you're dry, you don't look for a towel. You just get dressed after being in the bath of ice water and you say to yourself, definitely there's something here. It's brilliant.
I'm afraid I wasn't persuaded! Officially, the Catholic Church says there have been only 65 miracles at Lourdes. Hundreds of unrecognized, unexplained cures have happened here too, but that must still mean millions go away disappointed. How do they cope? I asked Stephen Fethney. He has muscular dystrophy. It killed his brother and sister and now confines him to a wheelchair. This is his fourteenth visit and over time, he's come to genuinely appreciate the meaning of the place.
Fethney: I got to understand it isn't necessarily the physical thing that's being healed, it's actually coming to terms with your disability.

Stott: So that's what's happened to you that has been your miracle?

Fethney: That's what's happened to me. And when I come to Lourdes now I actually see the joy in other pilgrims' eyes who have come for the first time and go away not being physically cured or throwing away crutches or anything like that, but they have more of an understanding of their disability and can cope with their disability.
It's nearly one o'clock in the morning in the Carrefour Café in Lourdes and these volunteers are relaxing and they deserve to. They give up six days each year to come and help disabled and chronically ill pilgrims and they come back each year. The café's run by the Guinguene family, who also own one of the best hotels in Lourdes, the Grand Hotel de la Grotte. Olivia Guingeune says she feels privileged to witness the mini-miracles that happen here.
Guingeune: I think when they've left Lourdes even if they are dying people, they know they won't be cured but I think they're very happy to have been in Lourdes and they go back happy that they have been here, they go back satisfied, that's absolutely certain.
You can't help but be moved by the courage, by the caring, sharing and joy you witness here. I'm not dying, I'm not disabled but I had a miracle experience too somewhere near that grotto I lost a great big chunk of cynicism.
From Lourdes in France, this is Martin Stott for The Savvy Traveler.
Lourdes Web Sites
Official Lourdes Web Site
Shrine of Lourdes
Lourdes Water
Religious Goods from Lourdes

Tangney Tours Info
Tangney Tours has been operating for 25 years. They do pilgrimages to Lourdes, Fatima (Portugal), Rome, Oberammergau and the Holy Land. They do a variety of packages; you can do the European trips by coach or fly and, certainly in Lourdes, stay in a variety of hotels - from budget to luxury.
I had the fortune to stay at the Hotel de la Grotte (four star). It's a traditional "grand" hotel. Food was excellent and service friendly. The owner employs staff on the principle that it doesn't matter if they spill the soup, as long as they smile and have warm faces. It seems to have worked - most of her staff have been with her for years, they're friendly and relaxed (and I witnessed no food-spilling incidents!).
Tangney employs a guide to take you out and a couple more guides out there to look after you when you've arrived. They will take you on walking tours through the town pointing out the places of interest in the Bernadette story and also take you on the stations of the cross. The nice thing is that all this is optional. You don't have to join in and the atmosphere is all very laid back. Most tours that I've ever joined (reluctantly) have ripped you off and rushed you round. This is very different.
Prices: Four days to Lourdes is $450, which includes return flights from London, transfers to and from the Hotel in Lourdes, full board at a three-star hotel, all taxes, courier services, pilgrimage badge and prayer book. (Staying at De La Grotte pushes the price up to $580).
Five days by luxury coach, using Le Shuttle or ferry to get across the channel, accommodation in two-star hotel in Lourdes (shared rooms with private facilities), taxes, tolls, courier service, badge and prayer book plus Paris tour and Mass at Rue du Bac is $230.
You don't have to be religious to enjoy this tour, but it's a help. Most of the pilgrims are Catholics so if you're Protestant be prepared to make allowances for the different style of worship and for the gift shop tastes of the French and Italians in particular! This makes an unusual and stimulating side trip to a journey to Europe especially if you like people watching and is excellent value for money.
Contact for Tangney Tours:
+44-1732-886666
ttours@cix.co.uk