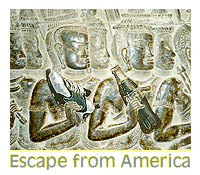 Escape From America
by Jesse Kalisher
Dear Rudy:

I recently spent two months in Southeast Asia attempting to escape all things American. Much to my surprise, the Americanism most easily escaped in these countries was actual American people, who must be vacationing in other exotic parts of the world these days, like, say, Idaho.

But while American people were hard to find in Southeast Asia, traces of America itself were everywhere.

If you're hankering for a brain freeze while traveling in Thailand, just hop into a 7-11. They're all over the place. So are Snickers bars, Gatorade and Coca-Cola.

I mean, look, there was even an Amway soap dispenser in the bathroom of my Phnom Penh hotel room. That's Cambodia, for those that don't know.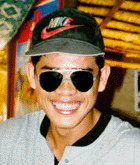 Nike hat in Cambodia
And in Burma, young men everywhere sported the Nike Swoosh on their T-shirts and baseball caps...of course, it's worth noting that these same young men had little more than simple sandals on their feet.
A cigarette brand named Lucky-7 advertises in Cambodia with billboards depicting sports the Cambodians can really identify with: sea kayaking and snow boarding. This in a country which never gets much frostier than 70 degrees and whose people live in dire poverty. Good going, Lucky-7, but you left out golf.
Western television programming, it should be no surprise, is everywhere as well - including, unfortunately, on long-haul buses in Thailand and Burma. Add this to your list of unspeakable tortures: sitting captive on an 18-hour Burmese bus ride while the driver plays a 90-minute bootleg copy of a Michael Jackson music video anthology. Twice.

Shop in Mandalay
One market remains closed to the West, however: there are no facial tissues currently sold anywhere in Southeast Asia. Kleenex marketing folks, you're slipping! The local custom calls for you to blow your nose directly into the street. My Burmese friend, Cho-Cho, says "How can you blow your nose in a piece of paper and then put it in your pocket or, worse, on the dinner table next to your food?"
Indeed.
And finally, in 'The Worst of American Culture is Everywhere' department...when I ventured over to the food court at the Bangkok International Airport in search of some Thai food, my choices were exactly (and why this surprised me I have no idea): Pizza Hut, Burger King and Dairy Queen. This is nuts!
Of course, I'll continue to search for an American-Free Zone for my next vacation. And when I find it, this is my solemn pledge: I won't be telling any of you where it is.
Photos © Jesse Kalisher 1999