Part 1: The Beginning of the Road
by Hal Cannon and Teresa Jordan


Teresa: We touch down in Kona on the Big Island. Swaying palm trees line the open-air airport and everywhere we look is deliciously green. It's hard to believe that just a few hours ago we had to dig our car out of a snowdrift to get to the airport.
Hal: A lovely Hawaiian woman places a strand of flowers around my neck and gives me a shy peck. The fusion of floral scents on this heavy air is intoxicating. We gather our luggage and proceed to the rental counter. Of course, I sucker for the manager's special and upgrade to a convertible, only 15 bucks more a day.
Teresa: We're off to the hotel.
Hal: We got a great deal booking the room in advance, $100. Again, I sucker for the manager's special for the room with a partial sea view, only $25 more. Sunken gardens, silk Hawaiian shirts, fountains, music in the air. We have arrived and if we hurry, we can make the luau.
Polani: "My name is Polani, and tonight we're gonna take you on a tour throughout the South Pacific. We'll be visiting places like Tahiti, Samoa, Fiji, and, of course, Hawaii. Now before I get started with all that other stuff...did everybody get enough to eat?"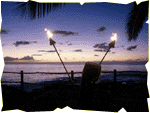 Hal: About 400 hundred of us are squeezed down long tables lit by blazing Tiki lamps. We face a stage backdropped by the moonlit surf. Suddenly, the lights dim and a dozen muscular warriors enter the scene, brandishing menacing spears.
Teresa: It's downright primordial. The drums intensify as the Fijian war dance crescendos to a blood-rushing climax. Just then, a young maiden is lead through the crowd.
Hal: Oh my gosh, she doesn't have a top on. It's pretty sexy 'til I realize that her hair isn't moving. Somehow it's stuck to her breasts? A combination hairpiece and bra.
Hal: I'm still trying to take this in when I realize we're right in the middle of one of the great tragic motifs of all Polynesian floor shows, the virgin sacrifice, and the girl with the amazing hair is poor Princess Kalua.
Hal: And then she proudly waves goodbye and the lights dim.
Hal: The show ends and we make it back to our room without incident. Except for drunken college students banging around in the halls, most the night we sleep OK.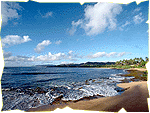 Teresa: We awake to the sound of surf, birds and a partial view of the ocean. We look at each other and begin to feel like we're having a partial experience.
Hal: As much as I wanted to be a "beach potato" I'm not here 12 hours before I start studying maps. At check-out, we get in the car and head north on the main route that circles the Big Island.
Teresa: We are headed for North Kohala, the northernmost part of the Island, to see if we can find some old friends who have always told us to drop in if we ever came their way. We wind around tight curves, through lush vegetation, catching occasional glimpses of the sea. And then, the road simply peters out. Sheer cliffs drop 500 feet in front of us to the Pacific.
Hal: We're high above the Pololu Valley, and we're not alone. Rental cars line the overlook. We meet a guy who has just hiked up the trail from the black, sandy beach below. He's out of breath and gleaming with sweat.
Hal: "What brought you here?"

Man: "To this place?"

Hal "Yeah."

Man: "It's the end of the road. There's always good stuff at the end of the road."
Teresa: I like that philosophy. If we can't find what we're looking for at the end of the road in paradise, we're not going to find it anywhere.
Rudy: Teresa, I've known you and Hal for quite a while and you always pick authentic places to travel for The Savvy Traveler. When I heard you were going to Hawaii it didn't make sense. Sometimes Hawaii can be the capital of kitsch.
Teresa: You know, Hawaii is the only state that was once its own country and even though the tourist machine is pretty overwhelming on the Islands, the Hawaiians are fierce in protecting their culture and language. Besides, Hal had a strong personal reason for going there.
Rudy: Now you've got me curious. Hal what this strong personal reason that took you to Hawaii?
Hal: I know this is going to sound strange but I went to Hawaii to reclaim my family's old Hawaiian name. My great grandfather was a beloved missionary in the Islands in the 1850's and the people gave him the name Keoke Pukuni'ahi. Teresa and I had a long-term invitation to visit a friend of the family, a revered native treasure in Hawaii named Kindy Sproat. After a week with him and his wife, Cheri, in a remote place called the Pololu Valley, he gave me back the name, Hali'boy Pukuni'ahi. Now you know.
Rudy: That's great. Hmm...Hali'boy. Let's go back with Hal and Teresa to find the real Hawaii.

For suggestions on Hawaiian Literature, be sure to visit:
Native Books & Beautiful Things
222 Merchant St. #101
Honolulu, HI 96183
808-599-5511
www.nativebookshawaii.com