Tips for Women who Travel
Interview with Sheila Swan and Peter Laufer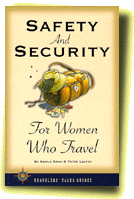 According to the Travel Industry of America, almost half of all business travelers are women. And these days, if women aren't traveling because of work, they're far more apt to take a trip on their own than they were ten years ago.
Authors Sheila Swan and Peter Laufer have written a book called "Safety and Security for Women who Travel." They offer some tips to help keep you, or the woman you love, safe on the road.
See also: