If you're looking for the best St. Patrick's Day party in the West, with plenty of green beer and parading leprechauns on the side, consider this excursion to "the Ireland of the West," Butte, Montana. Though Butte couldn't look less like Ireland's emerald shores, Celtic heritage runs deep through generations who originally came here to mine copper. Hal Cannon of the Open Road has been there before and has this report.
St. Patrick's Day, Butte-Style
by Hal Cannon
The Open Road
Kevin Shannon: "Montana...the state Montanans call the last best place...call him a cab."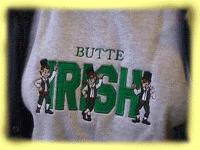 One of the great treats of St. Patrick's Day is meeting Kevin Shannon. White-haired, with an Irishman's ruddy complexion, he has a piercing gaze and an old-style ferocity of spirit. Shannon says the Irish in Butte had to be tough. Holding on to Irish identity was part of survival in a litany of hardships these people endured.
Kevin Shannon: "Shutdowns of the mines, the loss of work, people getting killed in the mines."
It really killed people?
Kevin Shannon: "Yes, it did...silicosis. When we went to high school, there were very few students who had a father."
Kevin Shannon's father immigrated from Ireland and worked for the mine's railroad. From his father, Shannon learned about the old country, its political struggles, its rich poetic tradition and its songs.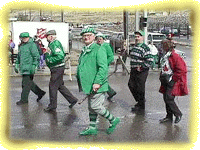 Kevin Shannon remembers when he and few buddies walked an impromptu parade route through the downtown. That was in the early sixties. Over the years the parade has grown to be three days of festivities teeming with revelers.
Kevin Shannon: "Everybody celebrates St. Patrick's day...you been up town."
It's not just the Irish...it's everyone. It's like a town celebration.
Kevin Shannon: "It's kinda like New Orleans in Mardi Gras."
We're now at the "Gathering of the Clans" at the Knights of Columbus Hall, open to tourists and townspeople alike. Prizes are being handed out for the Irish family with the most generations present. Corned beef and cabbage sandwiches are served down long tables accompanied by traditional jigs and reels. Young girls step-dance with precision at the front of the hall as proud mothers stand on the sidelines with arms folded, appraising every move the girls make.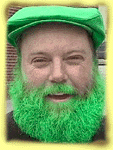 After meeting one of the traditional musicians who plays for the dancers, 93 year-old button-accordion player John "the Yank" Herrington, I find the teacher and founder of the Carrigan Dancers -- 14-year old Sarah Carrigan. We sit in a high-ceilinged meeting room heated by clanging pipes...the arteries of some subterranean boiler. I ask Sarah who her youngest dancer is.
Sarah Carrigan: "Well there's Kerry and she's 3 and she gets up and does the jig...I've wanted to go to Ireland ever since I was little."
Sarah Kerrigan offers to sing me her favorite Irish ballad, "Red is the Rose."
Sarah Carrigan has never been to Ireland, yet one day she will get her wish and go. When she arrives, she'll already hold in her heart songs, dance steps, and a romance for Irish traditions that will tie her to the place of her birthright. Today, many Americans visit their ancestral homes, and for many the meaning of personal ethnicity is little more than confusing. That is why this young woman from Montana is something special. This St. Patrick's Day we not only celebrate Irish heritage, we celebrate all the generations who care enough to pass on those old traditions.
Photos from the Butte Chamber of Commerce.