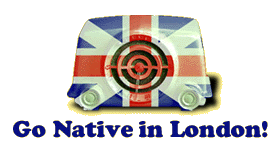 With Burger King and McDonald's on the streets of Berlin, Baby Gap all over Scotland and now Ikea in China, its hard these days to get that authentic THIS FEELS FOREIGN travel experience. If you find yourself in London, wanting to go native, producer Wesley Weissberg has a suggestion.
Go Native in London
By Wesley Weissberg
It's Friday night in London. The British are queuing up in Leicester Square to see American movies that opened six months ago in New York. The Americans are rushing to the West End to see plays that open on Broadway in six months, so that they can say how much better they were in London. I was looking for something else to do something authentic, entertaining and inexpensive.
Walking down Portland Place, one of the less interesting streets in one of the less hip districts, I saw a line of people heading into Broadcasting House, the home of the BBC. They were there, they told me, for a taping of a new radio show. I followed them in.
Welcome to "The Big Booth," a variety show starring Boothby Graffoe. It was described as a cross between "A Prairie Home Companion" and "Dumb and Dumber." It's actually just a cross between dumb and dumber.
It was classic British low humor -- silly and punny; the kind you're embarrassed to laugh at. We forget that this country of Wordsworth and wordsmiths, the land that brought us Shakespeare and Shelley, also brought us Benny Hill and now Boothby. They like to go low.
With due respect to American broadcasters, radio is a much bigger deal in Britain, and the BBC is a colossus. Five 24-hour radio networks, with one network focused exclusively on entertainment.
Jonathan James Moore, head of Light Entertainment Radio for the BBC, oversees these shows. Three to four nights a week you can just show up at the theater in Broadcasting House and see something you would not get at home.
My favorites are the panel shows. The best is an non-traditional variety called "I'm Sorry, I Haven't a Clue." Clever and witty, even when I don't get the references, I'm amused.
When I first heard this I didn't know that Judith Chammers is the host of a travel show called, "Wish You Were Here." Maybe I'm the worst kind of Anglophile, convinced that something I don't understand in British is funnier than jokes I do get in American.
Slouching low in my seat at the BBC Theater in Broadcast House, I'm Wesley Weissberg for the Savvy Traveler.