Carnival Cruisin'
by Marty Goldensohn
Visit this page on Wednesday, May 31 to listen with RealAudio.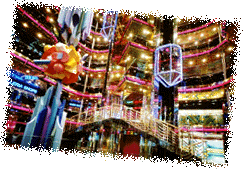 Picture this: "Hi, I'm Kathy Lee Gifford, I'm spokesperson for Carnival Cruise Lines and I'd love to take you on a personal tour of Carnival's superliner, Sensation."
Envision singing: "It's the exhilaration of a cruising vacation a week on the sea in a state of elation..."
I never should have sent away for this video. Now my wife Ruth can see Kathy Lee singing her heart out about the Sensation's 7-story lobby, the glass elevators outlined in purple neon, the Lucite palms trees, the shipboard shopping mall, the rotating piano bar, the Club Vegas casino -- and the adult pillow fight. This is not her style: she wants to read and watch the Caribbean go by.
On the other hand, my youngest daughter Emma, who is 12, has memorized the Sensation video. Like her dad, Emma has a high tolerance for honky tonk and for retail. Rosie, 14, is somewhere in between.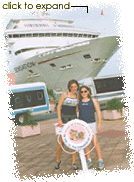 Anyway, the tickets are bought. We fly south from Newark airport, make our way to the port of Miami, gaze up at an immense chalk-white ocean liner that will be our home for a week -- and climb on board.
The Sensation, 855 feet long with 10 passenger decks, heads first for San Juan. We leave 2 1/2 hours late. Some planes are delayed, and maybe it's the guy who loads the beer, but the passengers -- many of the 2600 are experienced cruisers -- don't mind. The storm clouds don't concern them either.
Man: "Well, Larry and I went through a hurricane and it was no big deal. Went around it. Kept going. Little bit of rain."

MG: "But then there's no sunbathing, pool, no baking."

Woman: "But then there's drinking at the bar, and dancing and casinos, so there's always something to make up for it."
I take a moment to pray for sun. We watch Miami get smaller and smaller. Ruth is thinking, "Oh, there goes a nice city, why didn't we go there?" When you're married for years, you know these things.
We'll be seated in the Sensation's Ecstasy dining room for dinner. No view of the sunset, but the lighting can change color. Over a loudspeaker we are reminded not to wear tank tops or shorts at dinner. The message: this is a class place.
And it turns out, dinner is worth long pants. Fresh ingredients, sensible portions. Definitely not a borscht belt hotel, where one dish feeds an army. Renato, from the Philippines, brings spaghetti carbonara, rack of lamb and the fish du jour. Gede from Indonesia cleans up. Ruth is pleased to find that dinner doesn't match the decor.
"I had a very good piece of Atlantic salmon with a honey roasted crust served with a bean cilantro salsa. It was excellent."
After dinner, it's show time in the Fantasia lounge, a floating night-club that holds 1300. Cruise director Troy Linton has gathered volunteers on stage for the infamous Carnival Cruise spoon game. He's attached a spoon to a long string. Men drop the spoon through their pants; the women, in turn, thread it through their dresses.
It's like watching the taping of a TV game show. TV is the lingua franca here. Troy does a top-ten list of dumb questions he's been asked, like "Do the waiters sleep on the ship?" There are TV trivia games. The voyage itself is being turned into TV.
"If you turn right back 'round, look on the steps, you see a little red light. That little red light is a video diary. They are our on board film crew. They film everything you do each every day, all day long. It plays on every TV on ship, over and over again."
Midnight. As the Touch of Class piano bar begins rotating, Ruth and the kids turn in. The day started in the suburbs, ended far out at sea. Ruth says:
"It's not that different."
Roulette , black jack , craps, the wheel of fortune, one-arm bandits. Faith Beard, from Columbus, Ohio, is in a genuine casino, open 'til 3am. And it looks as if luck is running her way at the quarter slots.
Faith: "Well, this is pretty impressive -- 568 coins. And prior to that it was 412 coins in this bucket. This is my third bucket of coins. Ask me how much I've lost...$800...lost $800?...made back $200...right."
Before I call it a day, I go out on deck. Quiet. No air conditioning. It's humid and breezy. The moon lights a path on the sea. The deck's all but deserted. The lounge chairs are stacked, lashed to railings in case it's rough sea overnight. It isn't. The ship rocks our beds ever so gently. We sleep like babies.
[ Part 2 ]