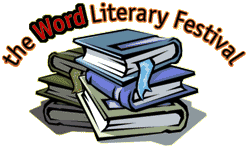 The Word Literary Festival
September 15, 2000
Rudy: "You don't really think of modern-day London as a words town, do you? I mean, when I think of London literary figures, I think of the past: William Shakespeare, Charles Dickens, Agatha Christie. But next week 'The Word' comes back to London. Here to tell us more is Michelle Kholos, with this week's Culture Watch. Hi Michelle."
Michelle: "Hello Rudy."
Rudy: "So is London reclaiming its spot on the world's literary map?"
Michelle: "You'd think so. 'The Word' is the name of the London Festival of Literature. This is the second one and there's a real great line-up, it's more or less a who's who."
Rudy: "Such as?"
Michelle: "Well, people like Arthur Miller and Margaret Atwood. J.G. Ballard opens up the festival with a rare appearance. And American author Zadie Smith is one of many non-British writers in residence."
Rudy: "Well, Michelle, that all sounds very interesting. Should make for a very literate time, but I have to ask you something about this contest I've heard about, not our contest, but the one that has England all riled up."
Michelle: "Ah, the contest. We had to get to it, didn't we. I'm telling you about all these great writers and you're just like the rest of England. 'Tell me about the contest! Let's talk about the contest'."
Rudy: "Well, sure. I mean, the best word in the English language? That's nothing to sneeze at."
Michelle: "Well, when Sir Bob Geldof, the man behind the Ethiopian drought relief back in the 80s, started the search for England's favorite word, he meant it to augment, draw attention to the festival. Not over-shadow it."
Rudy: "'Room service.' No, wait, that's two words."
Michelle: "Rudy, what are you talking about?"
Rudy: "How about 'Reprobate' ... or, 'Curmudgeon'."
Michelle: "Oh, I get it."
Rudy: "How about you?"
Michelle: "For me it's 'Snuffleupagus'. But the Brits are voting for 'serendipity' and 'quidditch'"
Rudy: "Snuffleupagus. Good one."
Michelle: "The Word takes place September 23rd, through October 1st. Most of the events are at Shakespeare's Globe Theater, but some of the smaller lectures happen around town. And that's this week's Culture Watch."
Culture Watch Index