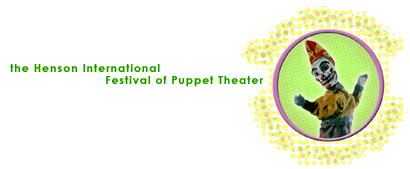 The Henson International Festival of Puppet Theater
September 1, 2000
Rudy: "What do John Tesh concerts, monster truck pulls and puppet shows have in common? They're all forms of entertainment that get no respect. But puppetry, unlike the other spectacles, is serious business. You can actually get a graduate degree in puppetry. It's true. Well, whether you're a puppet Ph.D or only a casual fan, get ready for an event that will really pull your strings: the Henson International Festival of Puppet Theater, a three-week puppet extravaganza beginning September 6th in New York. Here to fill us in is Michelle Kholos with this week's Culture Watch. Hi, Michelle."
Michelle: "Hi, Rudy."
Rudy: "So is this a mass gathering of people with socks on their hands talking in goofy voices?"
Michelle: "Not at all. These are sophisticated, worldly puppets. The festival showcases 26 puppet companies from all over the world on 14 stages. That makes it the biggest puppet presence ever in the Big Apple. Organizers expect about 600 out-of-town puppets."
Rudy: "Are they all Muppet wannabes and Punch and Judy impersonators?"
Michelle: "Rudy, you're living in the puppetry Dark Ages. Puppets have come a long way since Pinocchio. The festival will have life-size puppets, shadow plays, mask dances and stuff that's impossible to categorize. Sure, there will be lots of kiddie shows, like a puppet Sleeping Beauty. But expect some cutting-edge stuff, too. Chicago's Redmoon Theater, for example. They're doing a performance based on Prelude to Faust."
Rudy: "Ain't exactly Ernie and Bert doing the Rubber Ducky song, is it?"
Michelle: "Not quite. There's also Late Night Cabaret, a forum for emerging puppeteer hipsters. It's the very essence of cool in puppet circles."
Rudy: "Will the puppets be wearing black turtlenecks?"
Michelle: "No, but the people at the puppetry symposia might. See, the festival also has a series of heady panel discussions on subjects like 'The Puppet in Literature and Art'."
Rudy: "Sounds like a dissertation waiting to happen. How did it all start?"
Michelle: "Legendary puppeteer Jim Henson was behind it. He was impressed with the puppet festivals he saw overseas and decided to put together a U.S. version. This is the fifth year of the biennial event, which runs the 6th through the 24th. It gets bigger each year. Like I said, puppetry is hot."
Rudy: "What's it cost to participate in the marionette mania?"
Michelle: "The shows, exhibits and symposia will run you 12 to 45 bucks each. We'll post the festival link on our web site site. And that's this week's Culture Watch."
Culture Watch Index