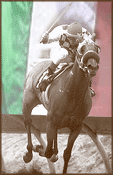 The Palio: Italian for Horse Racing
August 4, 2000
Rudy: "Forget the Kentucky Derby. Forget the Preakness, forget the Belmont Stakes. If you want to see real horse racing at its finest and most treacherous, head over to Italy for the Palio Di Siena, a 90-second horse race around Siena's tiny Piazza del Campo. Now, it usually takes place twice a year, once in early July and again mid-August. But this year, in commemoration of, what else, the year 2000, a very rare, third Palio Straordinario is planned for September 9th. Here to fill us in on the details is Michelle Kholos, with this week's Culture Watch. Hi Michelle."
Michelle: "Hi Rudy."
Rudy: "A third Palio this year, that doesn't happen very often does it?"
Michelle: "No, it doesn't. This will be the sixth Palio Straordinario in the last 60 years, and for good reason. I mean, given the how the whole race works, it's a wonder the city's still standing after two of these things."
Rudy: "What do you mean?"
Michelle: "Well, you have to picture it as a gigantic, citywide orgy of civic pride and neighborhood rivalry. See, back in the 11th century, city leaders started the Palio in honor of the Virgin Mary. Each of Siena's 17 neighborhoods, called contrade, enter a horse and jockey into the race. In the days leading up to it, each contrada has parties and prayer services for their horse. The tiny city square is covered with sand and a series of "unofficial" races set the stage. When the Palio is run, practically all of Siena crushes into the Piazza. The horses line up around the make-shift track. And in a blur of speed and color, the jockies race three times around. It takes only 90 seconds, and between the intense competition, which sometimes turns almost violent, and the equally intense conditions, it's a wonder no one's ever been killed!"
Rudy: "Sounds like a pretty crazy minute and a half!"
Michelle: "Yeah, and if you can believe it, the politics behind the race are just as exciting."
Rudy: "The politics?"
Michelle: "See, each contrada has its traditional friends and enemies. If a neighborhood looks like it doesn't stand a chance at winning this year, they'll strike deals to hold other contrada back. This last minute cloak-and-dagger stuff goes all the way up to when the race starts, and 'friends' one year usually get paid back the next."
Rudy: "So do enemies, I imagine."
Michelle: "So do enemies. I mean, you are talking about a whole year's bragging rights."
Rudy: "So when's the next one?"
Michelle: "August 16th. That special Palio Straordinario takes place September 9th. It's all in the Piazza del Campo, in Siena, Italy. And that's this week's Culture Watch."
{ Culture Watch Index }