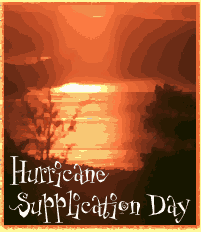 Hurricane Supplication Day
July 15, 2000
Rudy: "Monday, July 24th is one of two days marking a, well, dangerous time in the Virgin Islands. It's the official start of the hurricane season. Now, meteorologists will tell you that hurricane season starts promptly on June 1st. So far this year, there hasn't been anything major, a few tropical depressions off the coast of Mexico. But it's still early. That's why July 24th is a big day in the Virgin Islands. Here to tell us more about it is our very own Michelle Kholos with this week's Culture Watch. Hi Michelle."
Michelle: "Hi Rudy."
Rudy: "So, hurricanes are a cultural event?"
Michelle: "Well, if you lived in the Virgin Islands, or anywhere in the Caribbean, really, you'd think so. As you mentioned, hurricane season does officially start in June. But it doesn't really get going until later in the summer and fall. Which is why the fourth Monday of every July is an official holiday, Hurricane Supplication Day."
Rudy: "Supplication Day, so it's a day of... prayer?"
Michelle: "That's right. The whole island takes the day off to go to church and pray for mercy during the coming storms. Basically, they're asking to not be slammed by a hurricane or, if it has to happen, the back-up is a prayer that it's not too devastating. Now, hurricane season lasts until the end of October when the locals observe their Thanksgiving, which is another holiday to be thankful the islands made it through another year."
Rudy: "That's optimistic!."
Michelle: "Well, if you're in the Caribbean, it can't hurt to think good thoughts."
Rudy: "Definitely not. Does it work?"
Michelle: "Mmm, depends on who you ask. This year is supposed to be pretty brutal. Predictions say hurricanes will be stronger and occur more often. But Hurricane Supplication Day is more about keeping spirits up. Nobody wants a storm to strike, but if one does, it helps to be in a good frame of mind."
Rudy: "So what else does the holiday entail?"
Michelle: "Well, it's very low-key. For tourists to get involved, and given the stakes, it's not a bad idea, you can go to any church or gathering of locals. You know, it's the islands, and everyone's pretty friendly. And, well, the more the merrier... and the stronger the prayers."
Rudy: "Sounds like a way to gain a bit of an entree into the local culture."
Michelle: "It is, and it's also this week's Culture Watch."
{ Culture Watch Index }