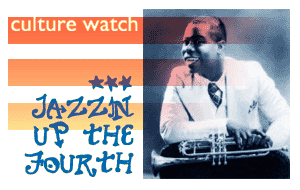 Jazzin' up the Fourth
July 1, 2000
Rudy: "Well, if you're in the New York City area this week, and you're still looking for a way to celebrate our nation's birth, there's one concert happening that you're not going to want to miss. It actually kicks off a whole year's tribute to one great American artist who really defined a distinctly American art form. Here to tell us about it is Michelle Kholos with this week's Culture Watch. Happy Fourth of July Michelle."
Michelle: "Hi Rudy. Happy Fourth."
Rudy: "Thanks. Hey, I recognize that horn."
Michelle: "It's pretty unmistakable. It is, of course, Louis Armstrong, a.k.a. Satchmo, a.k.a. a man who really popularized jazz both in America and on the world stage. You know, Rudy, when culture watchers point to America's impact on the world, jazz and great jazzmen like Armstrong, they say, have irrevocably changed modern music, from New Orleans, to Zaire to Shanghai, China."
Rudy: "Interesting. You know, now that I think about it, jazz really is a ubiquitous art form. And it's also distinctly American."
Michelle: "Right, so there's no better time to celebrate it than the Fourth of July. And that's what's happening at Liberty State Park, in New Jersey. See, the Fourth of July is not just our country's birthday, it's also Louis Armstrong's. So at Liberty State Park, in the shadow of Ellis Island and Lady Liberty herself, Wynton Marsalis and his Lincoln Center Orchestra will perform a tribute to Armstrong. It's actually the official kick-off to that whole year of events leading up to Armstrong's 100th birthday."
Rudy: "Sounds great. And seeing those fireworks go off over the New York harbor will be spectacular."
Michelle: "Breathtaking. The concert is outside, it's free, and seating is first-come first-serve, so get there early. There's also going to be an intermission so you won't be distracted from the music by the rockets' red glare."
Rudy: "A great way to enjoy real America..."
Michelle: "And it's this week's culture watch."
{ Culture Watch Index }