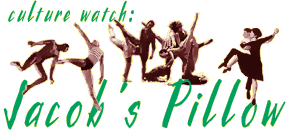 Jacob's Pillow
June 24, 2000
Rudy: "On the far western side of Massachusetts, a few hours almost due north of New York City, is the small town of Lee. Now, to those just passing through, Lee is not much more than a dot on a map. It's quaint, postcard pretty and fairly typically for rural New England. But every summer, just outside of town, a small farm plays host to some of the hottest talent in the modern dance world. The farm's called 'Jacob's Pillow', and here to tell us more is our very own cultured traveler, Michelle Kholos. Welcome, Michelle."
Michelle: "Why thank you, Rudy."
Rudy: "Michelle, first off, tell me about that name, 'Jacob's Pillow'. Where's that come from?"
Michelle: "Well, Rudy, when the farm was first settled way back in 1790, the locals already had a road called Jacob's Ladder. These were religious folk who worked hard tilling the land, which was made more difficult by the big rocks, even boulders, that stuck out all over the place. The Carter family, who settled this particular farm, spied one big rock that looked, well, it looked like a pillow, I guess. They named it 'Jacob's Pillow'."
Rudy: "Good story. So how do we go from pious farmers to modern dancing?"
Michelle: "You have to fast forward to the year 1930 when dance pioneer Ted Shawn bought the farm as a retreat for his troupe. See, Shawn was on a bit of a crusade. He wanted the world to recognize dancing as an honorable career for men. He created a new style of dance that emphasized masculinity, strength and had a new, political edge."
Rudy: "Ah, the roots of modern dance, sort of a proto-Bill T. Jones."
Michelle: "Exactly. In fact it's funny you should mention Bill T. Jones, because all summer long, the Jacob's Pillow Dance Festival features the best talent from the modern dance world. It gets underway this weekend, and continues until August 27th. The Bill T. Jones/Arnie Zane Company will be there in two weeks, performing from July 11th to the 16th. And besides all the great performances, there are a number of free lectures and symposia, one featuring acclaimed pianist Fred Hersch, who writes music for Bill T. Jones."
Rudy: "It sounds great."
Michelle: "It really will be. And for more information, you can check out these links. And that's this week's Culture Watch."
{ Culture Watch Index }