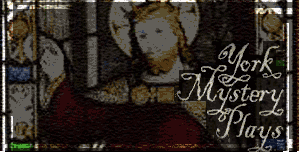 The York Mystery Plays
June 17, 2000
Rudy: "In the English city of York, back in the 1300's, life was pretty dismal. Between the Black Death, overwhelming poverty, and . . . well, we all know what English food is like . . . people needed something to keep their spirits up. So the Corpus Christi Play was created. It was actually a series of plays about the life of Jesus Christ that ran over the course of a few days. The plays were performed most years from the 14th to the 16th century. And then, much later in the 1950s, they were revived as a festival called the York Mystery Plays. There's something special planned for the Millennial edition, and here to tell us about it is Michelle Kholos with this week's Culture Watch. Hi, Michelle."
Michelle: "Hi Rudy."
Rudy: "So what's the big surprise?"
Michelle: "Well, for the first time ever, the plays will be performed in the York Minster, one of the largest gothic cathedrals in Northern Europe."
Rudy: "And are the plays as spectacular as the setting?"
Michelle: "Well, when the York Mystery Plays were first written and performed in the 1300's, life was, as you said, pretty horrible. It was dirty, dingy . . . something as mundane as the sniffles was potentially fatal. So to have the plays, on such a grand scale, with colorful costumes and bright lights . . . it was something to give hope and meaning in an really dark time."
Rudy: "Well, things aren't so bad now. . ."
Michelle: "No, but, you know, the story seems to hold up . . . and it will really stand out this year by being performed in York Minister."
Rudy: "Sounds like the perfect setting for a play about Jesus."
Michelle: "Yes, and it's directed by Gregory Doran. He's the associate director of the Royal Shakespeare Company. Combine that with a cast of over 200 of England's finest professional and amateur actors."
Rudy: "It sounds like something pretty spectacular. When is this happening?"
Michelle: "Performances run for a month, starting June 22nd, and I hear that tickets are still available."
Rudy: "And that's this week's culture watch?"
Michelle: "And that's this week's culture watch."
{ Culture Watch Index }