World Expo 2000: Hanover, Germany
May 27, 2000
Rudy: "The countdown is underway to an event organizers are billing as the cultural event of the millennial year, as if we haven't heard that before. But this really is a big deal because it's the first World Exposition to be hosted in Germany. Hanover, Germany to be exact. Let's get right to the details with Michelle Kholos and this week's Culture Watch. So Michelle, what's the theme for this expo?"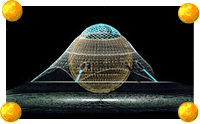 Michelle: "Well, the theme is 'Humankind... Nature... and Technology; a New World Arising'. And it's tied to the U.N.'s program for sustainable development."
Rudy: "I hear that it's not just about technology. There's also a lot of emphasis on the arts, right?"
Michelle: "Yes, what's being billed as the 'Festivals of the world' looks like it's going to be packed with performances by international musicians and artists of all kinds. Plus, organizers say that visitors will get to see some traditional rituals from around the world that are thousands of years old, some that have never been seen outside their native countries."
Rudy: "Oh, like what?"
Michelle: "Well, like these beautiful, artistically-decorated Moroccan horse riders that demonstrate a 1,500 year-old desert ritual. And, I don't really know how ancient this practice is but, one of the cultural contributions from Spain is going to be a nine-story tower made from 200 human bodies. That's the plan, anyway."
Rudy: "Wouldn't want to be on the bottom of that heap!"
Michelle: "No kidding! Let's see, what else. Well, from Mexico there's a show featuring a group who fly from the top of a large mast to offer gifts from the sun to the earth, and the reason is that they're begging their ancestors for protection."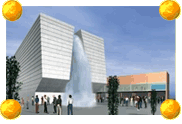 Rudy: "Lots of people expected?"
Michelle: "Yeah, I'd say 40 million people is a pretty good size crowd, but that's over the course of the entire event. Some pretty high-profile guests are making the trip."
Rudy: "Like who?"
Michelle: "Well, Queen Beatrix of the Netherlands, Princess Caroline and Prince Rainier of Monaco, and King Carl Gustaf and Queen Silvia of Sweden. On the political front, British prime minister Tony Blair, not sure if he's bringing the new baby, and France's prime minister Jaques Chirac plan to stop by."
Rudy: "But you don't have to be royalty or a politician to go."
Michelle: "Nope, it's open to everyone and it stretches from June 1st through October, so there's plenty of time to get to Hanover. And that's this week's Culture Watch."
{ Culture Watch Index }