Spoleto Arts Festival in Charleston
May 20, 2000
Rudy: "Charleston has long been known as one of the most beautiful spots in the United States, a place of stately private homes and lavish gardens. That reputation continues today, and for 17 days each summer, Charleston, South Carolina is also the center of the arts world in the United States as the Spoleto Festival presents more than 100 performances of opera, theater, jazz, visual arts and even circus acts. More than 100,000 people flock to Charleston each summer for Spoleto. Joining us with more in this week's Culture Watch is Michelle Kholos. Michelle, what is it that makes Charleston so magnetic?"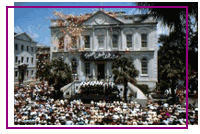 Michelle: "Well Rudy, there's the history, which can be traced back to the 17th century when England's King Charles II recruited settlers to move to the Carolinas, promising them they'd be land-holding barons who wielded great political power. That vision never quite came to fruition, but these new settlers did amass a measure of wealth and built the strings of stately Georgian manors that dot the city's 1,000 acre historic district that's been meticulously preserved. They also showed off their new lifestyle by becoming notable importers of the arts."
Rudy: "So the scene was set for Spoleto. How did the festival begin?"
Michelle: "Spoleto was founded in 1977 as the American counterpart to the Festival dei Due Mondi, that's the Festival of Two Worlds, which had been celebrated in Spoleto, Italy since 1958. Charleston was seen as the perfect U.S. counterpart because it was home to the first theater in America, the first ballet company, the oldest museum, and the oldest landscaped gardens. During its first 23 seasons, Spoleto USA has presented 91 world premieres and launched the careers of many notables, including Joshua Bell, the Emerson String Quarter..."
Rudy: "...Yo-Yo Ma and Bobby McFerrin. I imagine it's a big money maker too."
Michelle: "Rudy, the festival brings $42 million each year to Charleston and $73 million into South Carolina as a whole. It's increased Charleston tourism three-fold since 1977."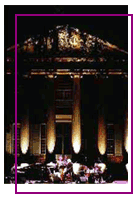 Rudy: "What about the current NAACP boycott of South Carolina over the flying of the Confederate flag? Has it affected ticket sales?"
Michelle: "Well, the Spoleto folks haven't commented on the flag flap and its impact on the festival, but state tourism officials have said they're worried about the tourism boycott which continues despite an agreement to move the flag to a place less conspicuous than atop the State House. Officials say the flag controversy could effect South Carolina tourism for several years to come because meeting planners schedule conventions several years in advance and some may want to avoid a state that's currently under a boycott. Despite all this current controversy, the show must go on and the Spoleto Festival USA runs from May 26th through June 11th in Charleston, South Carolina.
{ Culture Watch Index }