The New Yorker Festival
April 29, 2000
And now we take a brief pause for a literary quiz. What do authors Susan Faludi, Frank McCourt, and John Updike have in common? Joining us with the answer is Michelle Kholos with details on this week's Culture Watch. O.K. Michelle, Susan Faludi, feminist author . . .
Michelle: "Of the books Backlash and most recently, Stiffed: The Betrayal of the American Man. You know, the one about how men are at the mercy of a cultural-imposed masculinity that destroys any chance at happiness."
Rudy: "Right. I keep meaning to read that. O.K., so Frank McCourt. He, of course wrote the Pulitzer prize-winning memoir Angela's Ashes."
Michelle: "Correct, now add John Updike and what do they have in common?"
Rudy: "Got me."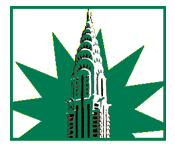 Michelle: "They've all written great books that first premiered in bits and pieces in The New Yorker magazine, which just so happens to have a 75th Anniversary coming up, and it's celebrating with The New Yorker Festival from May 5th to May 7th."
Rudy: "Of course. So, how do New Yorkers celebrate the New Yorker?"
Michelle: "Well, for starters, there'll be fiction readings by authors like Annie Proulx, Tobias Wolf and Jeannette Winterson, some panel discussions like one called, "Is Big Business Bad for the Internet?" There's also an architectural tour of the 15 buildings that changed New York city. And of course you can't talk about The New Yorker without addressing the magazine's humor, so there'll be a retrospective on 75 years of New Yorker humor."
Rudy: "Speaking of which, I hear there's a new book out about The New Yorker cartoons."
Michelle: "Yes, it's called Defining New Yorker Humor, and what it does is it dissects the magazine's irreverent cartoons and witty punch lines. It focuses on the first five years, from 1925 to 1930, when new talents like James Thurber were cutting their teeth. There was this misperception that New Yorker humor came from a small clique of writers and cartoonists, but actually there were hundreds of people who contributed. It was pretty open to new talent."
Rudy: "That 'insider-ness' was probably because of all those in-jokes about New York, Paris, the theater, fashion..."
Michelle: "Right, not so far from today's image, really. Actually there's this guy named Robert Callahan, who teaches English Literature at Temple University and he's got a website that criticizes what he thinks is the decadent consumerism of the magazine."
Rudy: "Bet that's not on the agenda for a panel discussion!"
Michelle: "Right."
Rudy: "So, how do I get a ticket to celebrate the 75th Anniversary of The New Yorker?"
Michelle: "Unfortunately, a lot of the panels and discussions are pretty much sold out. People jumped on this one awhile ago. But check out these links and see what you can do. That's this week's Culture Watch."
{ Culture Watch Index }