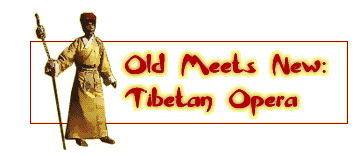 Old Meets New: Tibetan Opera
March 25, 2000
Think of the world's great opera houses and you may imagine Sydney, Australia or New York City and the Met. But Dharmasala, India? Probably not, but there is a vibrant arts community in this region of the world. One that uses opera to teach history and social justice. Michelle Kholos has details in this week's Culture Watch.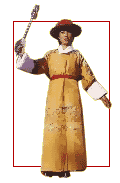 Michelle: "This is a truly fascinating story that keeps evolving. Tibet's indigenous opera, called the Lhamo, was originally founded by a 14th century Lama who found entertainment to be a very effective way to spread the ideals of Buddhism, and do a little fundraising on the side. It's said that when this Lama needed to finance the first iron chain bridge over a major river in Tibet, he trained seven sisters from the workforce to sing and dance while he played drums and cymbals. The opera remained quite popular and by the 19th century each major district in Tibet had a permanent performance troupe."
Rudy: "What about the 20th century, with the expulsion of the Dalai Lama. What happened to the opera?"
Michelle: "Well, the Dalai Lama actually took it with him. He founded the Tibetan Institute of Performing Arts in 1959, following the flight into exile of 100,000 Tibetan refugees escaping the Chinese occupation. It was a way to entertain the weary refugees and remind them of the Tibetan way."
Rudy: "And modern day Tibetan opera?"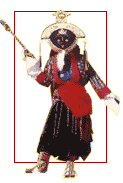 Michelle: "Every spring, around this time, the group gives a day-long, outdoor performance in Dharmasala and then takes the show on the road, performing in Tibetan settlements throughout India and in recent years, Europe, Australia and the U.S. as well."
Rudy: "Has the performance changed at all?"
Michelle: "It's still true to the original mission of spreading the Tibetan Buddhist way, but the 21st century has presented the opera with some challenges. Most audiences these days just don't have the patience for the traditional seven hour performance, so the artistic directors are trimming it to just two hours. And many productions, especially in the West, are done indoors so they're having to re-stage and consider issues of sound engineering and lighting. A classic case of old meets new.
{ Culture Watch Index }