Enjoying the Equinox
March 18, 2000
Everybody loves a good family reunion, right?! The pounds of potato salad, relatives who look like someone you once saw in a B-movie, and endless hours of slideshows. Well, there is a family reunion of a different sort brewing in the next few days and it brings out its own cast of interesting characters, as Michelle Kholos tells us in this week's Culture Watch.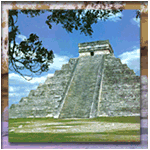 Michelle: "Hi Rudy."
Rudy: "So?"
Michelle: "Well, we've got Father Sun, Sister Moon and Mother Earth all coming together for one mighty celebration in Chichen Itza."
Rudy: "Chichen whatsa?"
Michelle: "Chichen Itza. That's in the Yucatan Peninsula of Mexico, you know, home to the Mayans. We're talking of course about the Vernal Equinox."
Rudy: "And the reason we're celebrating in Mexico, besides the Mayans?"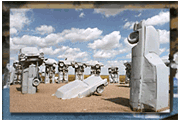 Michelle: Well, there's this really cool pyramid, the pyramid of Kulkulkan, which is at the exact 'center' of the four seasons. The pyramid has 91 steps on each of its four sides, representing the 91 days of each season. When the sun passes directly over the pyramid on the vernal equinox, shadows appear, the most famous of which is a giant serpent. Pretty spooky stuff!"
Rudy: "And it's a great excuse to drink tequila with a bunch of other tourists, huh?"
Michelle: "Well, that too. But hey, if you want to take it up one notch on the weirdness scale this equinox, why not skip Mexico and trek out to Alliance, Nebraska where you can visit Carhenge."
Rudy: "Car-henge?"
Michelle: "Yep, an actual-size replica of Britain's Stonehenge made out of, you guessed it, cars."
Rudy: "So that's what they do for fun out in the Midwest! Thanks Michelle. And that's this week's Culture Watch."
Savvy Resources:
Carhenge
2 1/2 mi. north on U.S. 385. This unique replica of the world-famous Stonehenge was constructed of old cars in 1987 by six local families on the occasion of their family reunion. The site also includes sculptures made of old cars and/or car parts. Open year-round, 24 hours a day. FREE. (308) 762-1520 or (308) 762-4954.
http://www.roadsideamerica.com/set/OVERhenges.html

Cancun South's Chichen Itza info
http://cancunsouth.com/cit_chichen.html
Previous Culture Watches: