Oregon Shakespeare Festival
February 19, 2000
Rudy: We take a look at a theatrical offering, beginning this week, that does its best to mix old and new with some very interesting results. Joining us with this week's Culture Watch is Michelle Kholos. Hi Michelle.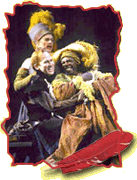 Michelle: Hi Rudy...or perhaps I should say "good day, sir."
Rudy: Well yes, because we are, after all, talking about the Oregon Shakespeare Festival.
Michelle: That's right. The festival kicked off Friday night with a performance of that all-time favorite, "Henry the Fifth."
Rudy: Oh yes, bad-boy Prince Hal reclaiming England's right in France. What would a Shakespeare festival be without Henry!
Michelle: Yes, but this is a rather unique Shakespeare festival. There's "Henry the Fifth," "Hamlet" and "The Taming of the Shrew," but there are also modern sagas like "Wit".
Rudy: I've heard of "Wit." Tell us a little bit about it.
Michelle: "Wit" is the story of Vivian Bearing, a teacher of metaphysical poetry, who learns the true meaning of John Donne's quote "Death be not proud," as she faces ovarian cancer -- the reality of which somewhat strips away her intellectual armor.
Rudy: Sounds like some pretty heavy stuff.
Michelle: Well, It's a Shakespeare Festival after all. But there's humor, too...in "Wit" and shows like "The Man Who Came to Dinner," about an international celebrity turned tyrannical invalid who's held hostage by this nice, middle-class family that adores him. Full of scandal, romance, hilariously improbable situations and wicked fun, all of which Shakespeare would no doubt have enjoyed immensely!
Rudy: Michelle, before you go...I understand the festival is offering more in the way of diversity than just theatrical genres?
Michelle: Yes ... the local lodging ranges anywhere from quaint bed and breakfasts to plenty of R.V. parks!
Rudy: Shakespeare for everyone!
Michelle: Yes, lunatics, lovers, poets and...just us travelers too. Plus it runs for quite awhile -- almost all the way 'til the end of October -- but I hear tickets go quickly.
{ Culture Watch Index }