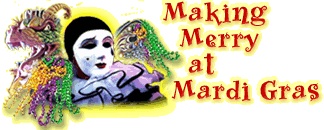 Making Merry at Mardi Gras
February 12, 2000
Here's Michelle Kholos with this week's Culture Watch to talk about current arts and entertainment happenings. Hi Michelle.
Michelle: Hi Rudy.
Rudy: Now, first of all, there's some news from Vienna...is that right?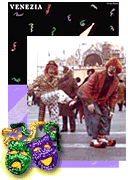 Michelle: Right. Given the political troubles there, Gerard Mortier has just resigned from his position of general manager and artistic director of the annual Salzburg Festival, which is a huge deal. That festival has been around since 1917 and it's considered by a lot of people to be one of the world's most prestigious music festivals. It's said that Mortier has really been the guy pushing this festival forward to become a venue for new work.
Rudy: But I assume the festival will go on.
Michelle: I assume it will too. Mortier is asking to be let out of his contract after the festival this summer, so we'll keep everyone updated as things change.
Rudy: So what's the good news?
Michelle: Well, the good news is that it's just about time for Mardi Gras...
Rudy: That is good news.
Michelle: Yeah, and, y'know, Mardi Gras really is a global celebration. I mean, everyone knows about Rio's famous beaches and the all-night samba dancing. And hundreds of thousands head down New Orleans every March. But some of the more interesting Fat Tuesdays are in places you might not expect.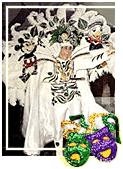 Rudy: Like...?
Michelle: Well...Venice, Italy. Or Nice, in the South of France. In fact, in Nice, the carnival dates all the way back to 1294, even though it wasn't officially sponsored there until 1873. Now the whole city erupts for 18 days and nights of revelry, starting this week with the arrival of His Majesty the Carnival King.
Rudy: I like that title...
Michelle: Well, I'm afraid you're going to have to settle for the "Travel King."
Rudy: That's not too bad either.
Michelle: No it's not. Now, here in the U.S., there's the carnival in Mobile, Alabama. Mobile hosted America's very first carnival in 1703; it was known then as the "Mother of the Mystics." And the highlight of that one is what's called the People's Parade, which takes place on March fifth.
Then there's always the Caribbean. Both Martinique and Guadeloupe have their carnivals in the next few weeks, but many islands have moved their festivals to other times of the year. The carnivals are space out in a way that they don't compete with each other...and then we tourists get a year-round Mardi Gras calendar.
Savvy Resources on Mardi Gras:
{ Culture Watch Index }