Chinese New Year
January 29, 2000
Rudy, Now I know a lot of those romances on the road start innocently -- especially around the holidays. Rubbing noses underneath the mistletoe, or a New Year's Eve kiss. Well, here's Michelle Kholos with this week's Culture Watch, and, she says it's not too late to get a New Year's kiss this year. Now, Michelle, it's almost the end of January; how's that going to work? And please, no mention of the year the 2000. I'm already sick of it.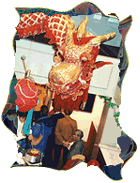 Michelle: No, Rudy, forget 2000. To over a quarter the world's population, we're on the crux of the 48th century.
Rudy: The 48th century? How do you figure that?
Michelle: It's easy. Chinese New Year is right around the corner. The year 4699 starts on February fifth. It's the year of the dragon, an especially lucky year, some people think. But others remember the origins of Chinese New Year -- and one menacing monster who loved to terrorize farmers and eat all their crops. This dragon came once a year, every year, until one villager discovered it had some fears of his own: loud noises and the color red. When the dragon returned a year later, all the townspeople dressed in red and set off loud noise-makers to drive it away. Ever since, "red" has meant good luck to the Chinese ... and I probably don't have to tell you, Rudy, about how important firecrackers are on Chinese New Year. San Francisco's Chinatown parade features over 600,000 of them -- on one float!
Michelle: That parade, probably the biggest in the U.S., happens on February 16th. And it's sure to be dwarfed by what's going on in Hong Kong. That city's ringing in the new with a two week celebration -- all tied into a whole slate of year 2000 events -- including a giant parade on New Year's Day and a huge fireworks exhibition on February 6.
{ Culture Watch Index }