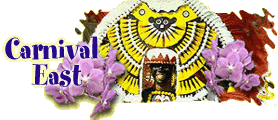 Carnival East
January 15, 2000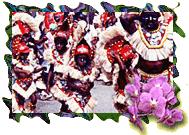 Did you know there's a party that might actually be bigger than Carnival? And it's not in the Americas at all. It's in the Philippines.
It's called the Ati-Atihan festival. It's a week-long event and it takes place all over the Philippines, but is biggest in the city of Kalibo in Aklan. Now, technically, it is Christian feast day, but really it's held to honor the original inhabitants of the island, the Ati. See, when the Malay chieftans purchased the island from the ati over 600 years ago, they decided to have a big feast to celebrate.
These days, people wear these huge colorful costumes made from dyed cloth, straw and paper, wild make-up and many people blacken their skin in honor of the Ati. Ati-Atihan, literally, means, "to make like the Ati." The drum beat goes all day and night. People form these impromptu dance halls in local houses and yards. People come from all over the world to take part. Think of it as "Carnival East."
{ Culture Watch Index }