Jim Russell
General Manager, Marketplace Productions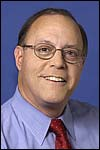 Jim Russell is an award-winning journalist and an outstanding creative producer with more than 35 years of experience in print, radio and television. From his tenure as a UPI foreign corespondent in Vietnam and Cambodia in the late 1960s to executive producing public radio's acclaimed All Things Considered to conceiving broadcasting's most popular business program, Russell exudes an inventiveness and professionalism in his work. He has worked with both public radio networks (National Public Radio and Public Radio International), has led innovative local stations and has won every major award in broadcasting. He has been profiled in Broadcasting & Cable and listed in Who's Who in the West, Who's Who in America and Who's Who in Entertainment.
Jim is one of the creators of National Public Radio's All Things Considered and participated in the design of NPR's Morning Edition. Jim conceived and created the daily business program, Marketplace, which the prestigious Columbia Journalism Review named "the best" program about business on radio or television. The program, distributed to 300+ stations nationwide and heard by more than 7.6 million listeners weekly, has become the most listened-to business program in America.