Diana Nyad
Host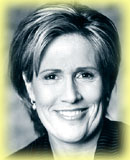 An intriguing and accomplished person, Diana Nyad is a world-class athlete, riveting speaker, inspired writer, and probing journalist. Diana's warm, extroverted personality and spontaneous interviewing style made her a perfect addition to the Savvy Traveler.
For ten years (from 1969-1979), Diana was the greatest long-distance swimmer in the world. In 1979, she stroked the longest swim in history, making the 102.5 mile journey from the island of Bimini to Florida. She was inducted into the National Women's Hall of Fame in 1986.
In the 1980's, Diana embarked upon an illustrious career in television, radio, and print. She has served as the senior correspondent for Fox Sports News, hosted her own show on CNBC, and announced numerous premier sporting events for ABC Sports. In addition, Diana writes a weekly column for National Public Radio. Diana has written several books, and often contributes pieces to the New York Times, Self Magazine, and other publications. Last we checked, she was writing a series of children's books for inner-city libraries, on athletes who overcame tough childhoods.
Diana graduated Phi Beta Kappa from Lake Forest College, and speaks four languages fluently.
You can find a September 2001, interview with Diana here.