Music with Bob Duskis artist info. for November 21, 2003
artist: Ojos de Brujo
release: "Bari" (Satelite K)
songs: "Quien Engana no Gana" and "Ventilaor R-80"
Ojos de Brujo is a musical project created by young Spanish musicians who use flamenco as a foundation for cross-genre experimentation. The band includes stylish and charismatic flamenco singer and rapper Marina Abad as well as two guitarists, a percussionist who plays a wooden crate, and a DJ who adds hip-hop beats and scratching techniques to the mix. Ojos de Brujo incorporate elements of hip-hop, funk, salsa and reggae into a rootsy flamenco underpinning to create an exciting and accessible new sound. The group is also well known for their soundtrack work, which has been featured in a variety of films, and they are preparing to tour the U.S. for the first time in early 2004.
artist: Martyn Bennett
release: "Grit" (Real World Records)
songs: "Why" and "Backbird"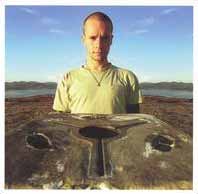 Martyn Bennett, a Newfoundland-born Scotsman, was a child protégé bagpipe and fiddle player. He now has a passion for club culture and a disregard for convention similar to Moby's in scope, but not in style. With Bennett, it's traditional Scottish music, instilled by his Gaelic singing mother, Margaret Bennett, that is the starting block for his work. Yet despite being a classically trained musician bought up on a tradition of live playing, he doesn't play a single note on "Grit"; instead, he adds electronic programming and textures to the source material he carefully collected for this project. Sources were snatched from dusty vinyl records as well as the Alan Lomax archives, some from right back in the '50s, and sonically reinterpreted into a modern dance hybrid.
All the songs were inspired by people who have triumphed over adversity, much like Bennett himself, who has struggled with cancer for the last few years. << back to the Nov. 21, 2003 broadcast page