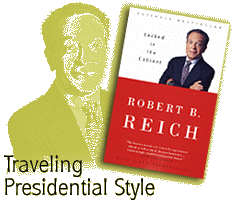 Speaking of...we've spoken with some political big wigs who talked about their Places of the Heart. James Carville and Mary Matlin, talked about their love of the Shenandoah Valley. And former labor secretary Robert Reich stopped by to tell us how it was to travel like regular folks after hitting the road presidential style for a few years as, he called it, " a high-maintenance "muckety-muck." His book about his experiences is called Locked in the Cabinet.
Interview with Robert Reich
This is very, very important Rudy, and it took me a while to learn this. I was not muck enough for anybody's taste. First of all, you have to hand off all luggage immediately to anybody who has their hand out to take it. I tended to carry my bags and luggage, and that was distinctly non-muck. Also you have to walk very quickly wherever you're walking, with your head high, your arms kind of swinging, as if you are just about to meet the president. Going through doorways, I had the old habit of opening the door for other people. Well, I was instructed "Don't do that, Mr. Secretary! I mean, you're the secretary! You have to go through the doorway, and everybody has to follow you." But perhaps the most important rule of muckdom, that was hardest to learn, was to relinquish almost all personal responsibility and authority over your schedule, over making sure you were at the right place at the right time, over all your travel arrangements."
Locked in the Cabinet by Robert Reich is available fromPowell's Books.