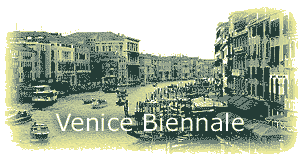 Culture Watch
June 19, 1999
You know that Italy is the place to be for art lovers, but it's especially hot this time of the year. Venice's Biennale is the Europe's most prestigious--and controversial--international exposition of modern art.
If you're a modern artist, this is the place you long to exhibit. If you're an art lover, well, you'll just love being there. But keep in mind the broad definition of "art." Remember this is contemporary stuff. For instance, this year features a tatoo parlor. Forty-six artists from Slovakia contributed designs...you just peruse the artwork on the walls and if you happen to catch the house tattoo artist when he's in, you can become a veritable canvas. Word has it that the "Gorbechev splotch" is especially popular right now.
Or check out the Russian Pavillion where you'll find the exhibit, "Moscow through Mikki's Eyes." Mikki is a seven-year old chimp with a Poloroid and an itchy finger. The idea is something called "Ecollaboration", a natural world-meets-art kind of thing. The artists behind the project say that Mikki actually becan to grasp the relationship between what he was seeing in the world and the image he could put on film. So you better think twice the next time you say "Hey, a monkey could do that!" Anyway, that's just a couple of the exhibits you'd see...there are hundreds more. And then, of course there's Venice and that could be enough for anyone anytime.
The Biennale just started last weekend and it'll be going on through November 7th...when you probably have a better chance of getting a reasonably priced, if any, hotel room. If you miss it this time around you won't be able to catch up with it again until 2001. The expo only takes place during odd-numbered years.
{ index }