Millennial Hype?
This is The Savvy Traveler, I'm Rudy Maxa. Have you noticed anything unusual this year when it comes to the travel business? I mean, besides United's summer labor problems? Think about this time last year. As summer ended, panic set in among those of us who hadn't had the foresight to make our millennium travel plans.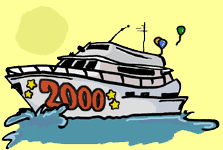 Of course, the whole thing turned out to be a bust, and the advance planners found they were paying more for tour packages and hotel rooms than procrastinators who took advantage of last-minute deals. But I have to tell you, I predict we'll go through the same cycle this year. After all, this is the real millennial New Year's Eve. Outside the vice president's mansion in Washington, D.C., which shares grounds with the Naval Observatory that keeps the country's official time, a millennium clock is ticking down the seconds, just as it did last year.

But other than that, I've seen no ads hyping millennium travel. Likewise, I've heard few doomsayers predicting plague or the end of the world. I guess it was just the magic of the big number 2000. I'm just as glad there's no brouhaha and social pressure to be in the most interesting place in the world as the century changes. And to that, I raise an early toast.