Air France does the right thing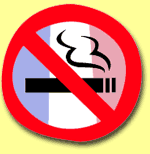 This is The Savvy Traveler. I'm Rudy Maxa. Well, quelle surprise. Air France is finally banning smoking on all its flights. Wait a minute. Has the world gone mad? That's like telling a Frenchman there'll be no wine permitted at dinner. Or forcing him to eat Velveeta cheese! To separate a French smoker from his Galuoise is like taking a paintbrush from Renoir's hand, like banning butter from the kitchen of a Parisian chef!
Remember, this is a country that ignores non-smoking sections in bistros and where goose liver is considered a health food. I can tell you, I don't want to be the flight attendant on Air France who has to deliver the bad news to some French passenger who hasn't heard about the new rule.
America will be blamed, of course, since we're the guys who began the no-smoking movement. But this is one case where I don't mind taking the rap. My guess is there are plenty of French men and women, as well as Air France flight attendants, who are secretly applauding the new rule. Well, at least those 148 French citizens who don't smoke. Now, if we could just get Parisians to curb their dogs, France could well become the most perfect place on earth.