Flying the Unfriendly Skies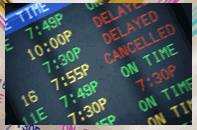 This is The Savvy Traveler, I'm Rudy Maxa. If things are ugly today at America's airports, and they are, imagine ten years from now. This year, about 650 million Americans will fly commercially. By 2010, that number is expected to hit a billion. But except for San Francisco's massive airport renovation, do you know of any big, new airports being built? Neither do I.
Last Monday, airline executives and union leaders met with Transportation Department Secretary Rodney Slater to try to sort out the crowded skies. Yes, the United labor difficulty has made this an especially miserable summer for flyers. But the airlines are still scheduling too many flights in too small a time window. And air traffic controllers still haven't hit on a better formula for handling bad weather.
A United flight attendant told me this week that air rage is one of the unhappy byproducts of this summer's snarls. Some passengers kill time in terminals by drinking in airport bars. By the time some of them finally board, they've forgotten their manners. To put it nicely.
That Washington pow-wow last Monday resulted in a promise to study the problem of America's crowded skies over the next 90 days. Last summer, the airlines made a list of promises, including one to tell passengers the truth behind specific flight delays. I'd be happy if they could simply keep that vow.