The Dangers of Travel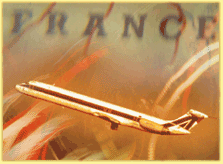 At a major air show in Britain last week, everyone was talking about the race between Boeing and Airbus to snare customers for a new generation of big passenger planes. Boeing is stretching out its 747, but Airbus is upping the ante with its really big jet, the A3XX. It'll carry more than 550 passengers and some airlines may choose to add a casino, restaurant, nursery, gym, even bedrooms.
I thought of these 500-plus passenger planes of the future after Tuesday's crash of the Concorde. The supersonic plane had beat the odds, flying for 30 years without a fatality. And I realized that someday, somewhere, one of those new super-sized planes is going to have an accident. Plane crashes rivet the world not because there are so many of them, but because of the number of victims they take at once.
Air travel has broadened the world's horizons, encouraged prosperity, and, I would think, help promote peace and understanding by bringing people together. But as we remember the victims and families of victims of the Concorde tragedy, we also are reminded of the fallibility of human beings and their technological creations. Try as hard as we might, we can't take the risk out of progress.