C'est la Vie!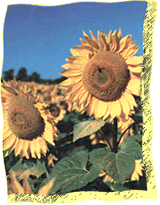 Last week I noticed the most amazing behavior on turnpikes in the south of France: Drivers in the passing lane actually yielded to faster cars. Somewhere along the way, Americans forgot that lesson from Driver's Ed.
That was the good thing about driving in France. On the down side, it cost about $35 to fill up my gas tank. I guess that's why train travel is so popular not only in France but everywhere else in Europe. And why Europeans can't understand why Americans are whining about gas prices these days.
The French won the Euro 2000 soccer tournament Sunday night when I was in Aix-en-Provence. Completely disregarding the high price of gas, revelers made loops around the city's circles, honking and waving French flags. Political analysts predict the win will provide a psychological boost for the country that will help cut its 10 percent unemployment rate and generally make France a better place to be. With the U.S. dollar fetching nearly seven francs, it's already a good place for Americans to visit. And I'm happy to report that some things never change: the sunflowers and lavender in the fields of Provence are as colorful as ever, the cuisine remains incroyable, and my French is still miserable.