On-Board Services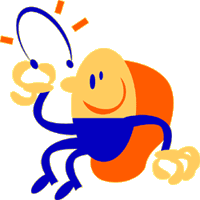 At long last, free movies come to those of us who fly coach. United became the first domestic carrier to say headsets are on the house. And if you don't like what's on the small screen, you can bring you own movie aboard and watch it on an even smaller screen. A company called InMotion Pictures is building kiosks in America's airports to rent movies on discs along with portable disk players that look like little laptop computers. Cost: About $10 a day.
We're not far from a time when we'll be able to choose our own movie on board or listen to dozens of live television broadcasts. You may never have to talk to the stranger next to you again.
But I dream bigger dreams. When my flight is 23rd in line to take off from LaGuardia, I imagine the airport equivalent of a Good Humor truck pulling along aside the plane selling decent wine and interesting pastries. When I'm sitting at the gate and my flight is delayed, I imagine a pilot in a crisp uniform sitting down next to me and confiding, "Rudy, let me be frank about what's going on here. No way this bird is gonna fly in the next three hours. I'd check out the competition if I were you."
Now, don't get me wrong, I'm grateful for the comped headsets. But what I've always wondered is: Where in the world is the factory where hard-working elves replace all those ear pieces after each flight?