Honoring a Patron Saint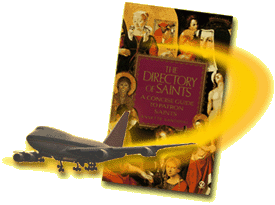 I'm sure you've made plans to celebrate the feast day of the patron saint of flight attendants. It's Monday. What? You didn't know it was this Monday? Well, to tell the truth, neither did I. And neither did any of the flight attendants in the coach section of the Lufthansa flight I took back from Italy this past week.
But a book called The Directory of Saints tells the story of an Italian pilgrim named Bona. In the 12th century, 14 year-old Bona went from Pisa to visit her father who was fighting on a crusade in Jerusalem. She was taken prisoner by pirates in the Mediterranean but eventually rescued. That might have made most of us a little travel shy, but not Bona. She wound up leading many others safely on the same pilgrimage. Nine times. And the Mother Church made her the saint of travel guides, which has come to mean flight attendants.
And who needs a saint more? I've flown back and forth across the Atlantic four times in the last six weeks. And every plane has been totally filled. I have to tell you, the Lufthansa crew on my last flight was upbeat, polite, efficient, and warm. Frankly, I was amazed. That's why I figured they knew their special day was approaching. Nope. It turns out they were just well-trained employees doing their jobs with enthusiasm. May you, in your summer travels, enjoy the same experience I did. And if you do, say a word of thanks to plucky Saint Bona, as she leads us on a trip to Cuba.