Living Dangerously in Italy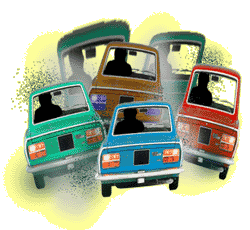 Earlier this week in Southern Italy, I think I finally discovered why the Italian people are so full of life. It's because of the way they drive. Life can end so quickly, you've got to celebrate every living moment. This occurred to me as my cab driver from Naples, who had clearly registered his Mercedes as a deadly weapon, careened around curves along the Amalfi Coast.
You've heard of the Almafi Coast? Amalfi must mean "last rites" in English. This is the stretch of coastline that boasts picture-postcard places such as Sorrento and Positano. They're linked by a two-lane road. Well, technically, it's a two-lane road. If you're Italian, a line down the middle of two lanes somehow translates into three lanes. And those signs that say "No Passing"? "We are Italian," my driver laughed when I gingerly pointed one out. "We do what we want!" When I reached for my seat-belt, the expression on my driver's face seemed to say, "You know, I've always wondered what those were for."
Obviously, I lived to tell about it, though I have a few more trips to Italy planned this summer and I'm thinking of taking along my own air bag.
Savvy Resources:
Escape Magazine


Working at Play: A History of Vacations