Talking Travel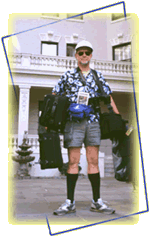 If there's one thing I've learned since I started this gig, it's that everyone loves to talk about travel. You know how some people will meet a doctor and launch into a litany of their aches and pains? Well, strangers everywhere tell me their best and worst best travel stories with that same enthusiasm. And they want to know my favorite place in the world, or my worst travel disaster.
A couple of weeks ago, a former girlfriend revealed some of my travel secrets right here on my show -- my obsessive search for abandoned luggage carts, my tendency to ignore my seat mate in favor of reading old Wall Street Journals. Hmmm...maybe that's why she's a former girlfriend...
Anyway, in this new year, I'd like to take you along with me on some of my trips. Not all of them will be far away from where I live, though few of us think of our hometowns as exotic. Plus, I'll go behind the scenes with the people who shape your travel experience. In a few weeks, I'm going to hang out with a hotel housekeeper -- maybe even empty a few waste baskets myself. Today, I'm taking you only about ten blocks from where I live in Washington, D.C., to a neighborhood tourists rarely visit. There, we'll find monuments, but not the kind you read about in guidebooks.