A Look Back: Travel in 1999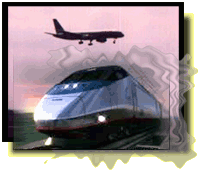 Was 1999 one bizarre year for travel, or what? It started out hard: airline passengers held captive for hours aboard Northwest planes that couldn't reach gates in because of heavy snow. It ended hard, too. One airline fired a pilot who delayed a flight 90 minutes in Las Vegas. It seems he didn't like the in-flight meal options. Turns out he didn't like anything the airport restaurants had to offer, either, so he took a cab to town in search of food. Meanwhile, back on board, 150 stranded passengers fumed.
This was the year Virgin Atlantic Airline's Richard Branson announced plans to install bedrooms with double beds on a new generation of planes flying between New York and London. "You can do it on cruise ships, you can do it at home -- why not airplanes?" he asked. And why not in airports? A chain of Dutch brothels -- yes, "brothels," (that's legal over there) -- proposed opening a branch at Amsterdam's Schipol airport.
Passenger rights and crowded skies were the two big topics of the year. Amtrak's new, high-speed train, Acela, might have been a big thing, too. A $20 million ad campaign began a couple of months ago. That was when the train was supposed to begin service, but now it's delayed until next spring. Defending the ad campaign, an Amtrak spokesperson said it didn't really matter that the train wasn't yet operating -- it's important people become familiar with the name. Uh-huh. We've got the name -- just give us the train!
Now it's a new year -- what do you say we spend it together on the road. Let's do a little traveling and see what kinds of adventures the year 2000 brings.
{ View Index }