Music with Bob Duskis artist info. for March 19, 2004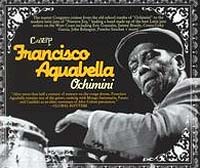 artist: Francisco Aguabella
release: "Ochimini" (Ubiquity)
tracks: "Funky Cha"
A master percussionist who was born in Matanzas Cuba, Francisco Aguabella is one of an "echelon of drummers who came to America and are responsible for all drummers that came after them," says Latin percussionist John Santos in the movie "Sworn To The Drum." "He is one of the strongholds of our music and has always kept the commitment to our Cuban rhythm," adds Israel "Cachao" Lopez. "He plays with everybody but always maintains our rhythm, that's very important."
On Francisco Aguabella's fifth album, the master conguero cruises from the old-school rumba of "Ochimini" to the modern Latin jazz of "Nuestra Era." He enlists the best Latin jazz artists on the West Coast to bring these old and new styles together. Justo Almario, Sal Cracchiolo and Luis Eric Gonzales are on hand to deliver masterful improvisations, while the drumming of Jimmy Branly and Conra Coky Garsia keep the rhythms fresh and exciting. The bass and piano team of John Belzaguy and Donald Vega keeps everyone on their toes, pushing the solos to the limit, with Vega displaying his enormous improvisational talents. But the leader is what makes all these musicians push themselves. Displaying his mastery of the congas as well as percussion, Aguabella is always the driving direction behind "Ochimini.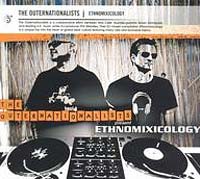 artist: The Outernationalists
release: "Ethnomixocology" (Six Degrees Records)
tracks- Mysterious Traveler, "Green Africa" and Harem, "Orient Carnival"
The Outernationalists is a collaborative effort between Afro-Celts' founder and guitarist Simon Emmerson and leading UK music writer/DJ/producer Phil Meadley. Their DJ-mixed compilation "Ethnomixocology" is a unique trip into the heart of Global Beat culture. For the last seven years, Simon Emmerson's group Afro-Celts has been known for its innovative fusion of West African rhythms, Irish traditional music and cutting-edge dance grooves. Phil writes extensively about Global Beat Culture for "HMV Choice" and "Global Rhythm," and is building a strong reputation for his eclectic DJ sets. On "Ethnomixocology," Phil and Simon have looked deep into the bustling, vibrant multi-cultural heart of London and have come up with a seriously funky club mix of Afro, Indian, Arabic, Latin and global psychedelia in the style of Coldcut's classic "Journey's By DJ."
<< back to the March 19, 2004 broadcast page