This isn't Your Father's Amtrak
by Rudy Maxa for Marketplace
With the start this month of Amtrak's high-speed Acela service on the East Coast this month, our Savvy Traveler takes a step back and looks at the state of train travel in the United States. And tells you where to find some deals.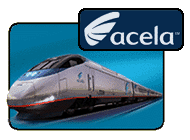 The fast trains linking Washington, New York and Boston, were supposed to have begun service a year ago, but, then, few Amtrak projects work out as planned. Actually, Amtrak began advertising Acela service last year anyway, branding its East Coast trains with the name even though there was little new about them.
But let's look to the future. If Acela makes the grade financially, Amtrak will be a step closer to achieving that elusive goal of profitabililty. But if you're one of those Americans who rides the speedy trains in Japan or Europe and hopes someday train travel can once again become a glamorous, efficient means of criss-crossing America, it's time to put those dreams to rest. The United States is simply too big. The reason why those trains work overseas is that the distances are less between major population centers. And it's only big cities that can support train travel.
That's why Acela only operates along the crowded northeast corridor. The only other parts of the country that can hope to someday have similar service are places like Florida, Texas, California, and the Chicago region, where there are enough people to support fast - and expensive - trains.
Having said that, Amtrak does still serve a good part of the United States. And if you like to travel by train, you ought to become a regular on-line visitor to amtrak.com. That's because there are some changes you should know about. And every Monday, new deals get posted on the railroad's web site.
For example, did you know you can earn Alaska Airline miles if you travel Amtrak along the Pacific Coast? Or that there's such a thing as a California Rail Pass? You can see such diverse sites as the Napa Valley, Yosemite, and even Las Vegas, if you buy a 7 or 21-day pass good for unlimited train travel. And country-wide, Amtrak offers student fares, senior citizen fares, and special deals for children. Then there are discounts on fares linked to events-get 10 percent off, for example, if you're going to visit the Van Gogh portraits at the Philadelphia Museum of Fine Art. Or present a ticket stub for The Lion King: The Musical, now playing in Los Angeles, and get 10 percent off rail travel.
But the biggest savings can be found among the Monday specials on line. Borrowing a page from the airlines, Amtrak offers deals on city pairs during certain periods of travel. For example, last week you could have booked travel from Seattle to L.A. between January 3 and the end of February, for as low as $52 each way. Other sample fares good for travel at other times: Chicago to Pittsburgh for $41; Miami to Jacksonville, $39.50; and Raleigh, North Carolina, to New York for 52 bucks. Those savings can represent as much as 70 percent off retail.
Planning a family reunion or company event? Get a free ticket for every 20 people traveling. Oh, and if you're planning a smaller family trip - maybe next summer - look for a discount when you buy a copy of "Thomas and the Magic Railroad" video. Your kids will pay 50 per cent less than usual, and adults will pay 25 per cent less.
And, by the way, if you're planning to travel up and down the East Coast this holiday season, consider the train instead of the plane. It could be just as fast - and a lot more reliable. Amtrak - it's not your father's railroad. But, then again, your father could never click on amtrak.com!
The Savvy Traveler on Marketplace