Travel Guarantees
by Rudy Maxa for Marketplace
There are few guarantees in life, and when it comes to travel, even fewer. But some travel providers are going out on a limb and promising you that if things go wrong, they'll do you right.
To introduce its newly designed business class across the Atlantic, British Airways not long ago mounted an ad campaign that basically said, "Fly us in business class, and if you don't like it, we'll give you your money back." The airline won't say how many refunds it had to make, but since a round-trip business class ticket between New York and London costs about $6,000, a few refunds here or there shouldn't have hurt the bottom line.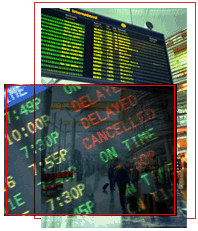 One of the most surprising promises was made a couple of months ago by the website Biztravel.com. If you purchase a ticket on one of five major airlines through Biztravel and your flight is delayed or cancelled, you get paid, like $200 if your flight lands an hour or more late. You even get some bucks if your assigned seat or entrée of choice isn't available. Mechanical delays don't count, and the company asks you to use your judgement in requesting payment should a flight be delayed due to weather, as that's a flight safety question.
For the most part, however, there are few guarantees that a bad trip will result in some kind of refund or cash settlement. So what do you do if a trip goes very, very bad? The first rule is to document everything. Get the name of every train conductor, airline gate agent, or hotel desk clerk with whom you have contact as the disaster unfolds. Note the time of each conversation and write down the substance of that conversation. Keep all receipts, boarding passes, reservation records and so on.
If you don't receive satisfaction on the spot, write a letter later with a careful accounting of the problem. A cool-headed letter always gets more respect than a hysterical, unfocused rant.
Always ask for what you want but be reasonable. If your rental car wasn't ready when you showed up, you're not going to get a year's free rentals. But you might ask for a free weekend rental. In the case of airlines, you can ask for everything from a free drink coupon to a free ticket for future travel. A hotel can offer free or discounted lodging. Complaining and not asking for a particular remedy often leads to nothing more than a letter that ends, "Thanks for bringing your problem to our attention."
It's the summer travel season, and things are bound to go awry. Effective complaining is the court of last resort, except, of course, taking the case to a real court. But that involves lawyers, doesn't it? I'll take a pass on that.