A Closer Look at Orbitz
by Rudy Maxa for Marketplace
What travel web site is being examined very, very closely by the Departments of Justice and Transportation, as well as Congress? And why should it matter to you?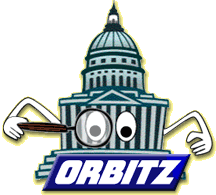 It's a web site called Orbitz, which's financed by five of the largest airlines in the U.S.: United, American, Delta, Continental, and Northwest. And it's sent other travel web sites, as well as the country's travel agents, into orbits of their own. Why? Well, the airlines are promising to make available their lowest fares, the ones they post on their individual web sites each week, to Orbitz exclusively. And that has competitors such as Travelocity.com and Expedia.com crying foul. Travel agents as well have asked the Department of Justice to decree that such a web site violates anti-trust rules and is unfair competition.
The site, expected to open for business in the next few weeks, was until recently simply called "T2" by its designers. Airline industry insiders said that T2 stood for "Terminate Travelocity," though the Orbitz folks deny that. They say they're offering a more powerful fare search engine developed at MIT that gives consumers more choices. At a press conference in Washington earlier this month, Orbitz compared a fare search conducted by its software with that conducted but its two largest competitors, Expedia and Travelocity. A request for the cheapest ticket between Chicago and New York City turned up a $191 round-trip on Orbitz, while the two competitors weighed in $254 and $261. But what Orbitz didn't point out was that its cheaper ticket required flying into and out of the airport on Islip, Long Island, which is not generally considered one of New York City's airports. It's a long train ride or $130 cab fare into mid-town.
So what does this have to do with you? Well, that's what the Departments of Transportation and Justice want to find out. A congressional hearing, as well, is planned for July to determine if Orbitz is taking advantage of the fact that it's owned by the big airlines. The fear is if airlines are making special, on-line discount fares available only to Orbitz, the site will eventually put the competition out of business. And if that should happen, what would the airline's incentive be to keep offering low fares?
Today thousands of web sites promise the cheapest fares. Obviously, they can't all be telling the truth. But the wonderful thing about the online world is that there are so many selections, a determined comparison shopper can at least come close to getting an idea of the lowest fares. It's that price transparency that the web celebrates. But if the day comes when we can only turn to the airlines or their websites for tickets, there goes competition. And up go prices.
I'm Rudy Maxa, The Savvy Traveler, for Marketplace.