Airline Merger Mania
by Rudy Maxa for Marketplace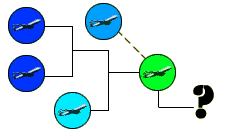 United and US Airways. British Airways and KLM. American and Northwest. Or is it American and Delta? What do recent reports of airline acquisitions or mergers mean to you and the price you'll pay for airline tickets?
Economics 101 holds that when competition goes down, prices go up. If you live in a city dominated by a single airline, the odds are excellent that you pay more than the average passenger to fly. I'm indebted to Biztravel.com columnist Joe Brancatelli for taking the time to cull the latest numbers from the Department of Transportation's report on fares. The stats reveal that short flights and cities with little competition mean sky-high prices.
For example, consider Northwest's 95-mile flight between Cleveland and one of its hubs, Detroit. Average fare: $164 one way, or a whopping $1.72 a mile. United's quick flight between Grand Rapids, Michigan, and its hub in Chicago averages $1.65 per mile. And it's not just small towns that get stuck. United handles nearly 70 per cent of the business between Washington, D.C., and San Francisco. Average one-way fare: $560, or 23 cents a mile. What's a reasonable per-mile charge? Well, check out the route between Orlando and San Jose where United and TWA compete for business. Fares average less than ten cents a mile!
Need more proof? Fares between Atlanta and Mobile, Alabama, went up more than 80 percent when AirTran stopped flying that route and left Delta as the single carrier. Northwest jacked up Minneapolis-Omaha fares 66 percent when its single competitor, Frontier, dropped out.
There are exceptions to everything, and Terry Trippler of One Travel.com actually found some city routes where service by only one carrier actually translated into slightly lower fares. Between Pittsburgh and Los Angeles, for example, US Airways offers the only non-stops at 46 cents for a walk-up fare. Which ain't no bargain. But US Airways competes with United between Philadelphia and Los Angeles, both offer non-stop flights at two cents a mile more, 48 cents for a walk-up fare.
Now, all those numbers can be mind-numbing, but it's those numbers that might determine whether the anti-trust guys at the Justice Department, or Congress, approve United's purchase of US Airways.
What about the other possible deals? Well, I think you can expect a British Airways-KLM merger before you see American walking down the aisle with either Delta or Northwest. In fact, American may be talking to competitors mainly to thwart the United-US Airways deal. Regulators have to be thinking: If the United deal goes through, then we'll have to approve American's purchase of someone. And then watch those per-mile numbers go up.
So hope the government quashes any major mergers. And maybe we should all consider flying low-fare carriers like Southwest, AirTran, and JetBlue, which just announced non-stop fares between New York and the West Coast as low as $99 one way. With no Saturday-night stay over required. Now that's progress!