Rudy's Gripes
by Rudy Maxa for Marketplace
It's not so much the industry as a whole. It's what I call the "little murders," the small slights that sometimes irritate travelers and often make no sense. Here's what's making me cranky right now.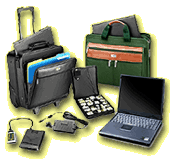 First, you may have noticed that more and more commercial planes have power outlets near seats suitable for plugging in a laptop, even in coach class. I noticed them on three separate 767s I flew recently. They were located below my seat, in a hard-to-reach place near the calf of my leg, but I was glad to find 'em. Two of my flights were long ones, and no matter what Dell says, my expensive laptop doesn't give me more than an hour-and-a-half of battery life on a full charge. So I looked forward to being able to work for hours.
But my computer's power cord didn't fit. Turns out you need a special adapter shaped like those cell phone adapters you plug into a car's cigarette lighter. Did the airline have one? It did not. Turns out I'd have to order one from www.port.com or some other computer supply place. One of my flights was to Paris, and, as usual, the duty-free cart offered all kinds of perfumes and cigarettes. Now, why can't the airlines sell something really useful in flight, like computer power adapters? And I know kids who would pay five times retail for batteries to run their electronic game devices.
Then National Car Rental irritated me in a big way. For years, I've been accumulating frequent rental points in its Emerald Club, inching my way up to the 20,000 point level when I'd be able to cash out and get the free use of a car for six months. I was nearing 15,000 points when I got my first statement this year. Turns out National has gutted the award structure. Gone were the serious, high-end rewards, including my free car. All that remained were a bunch of little prizes, like free weekends at hotels, a few thousand airline miles, or a free rental car for, at most, two weeks. That's a serious devaluation of an incentive program. Will I be renting less from National in the future? You bet.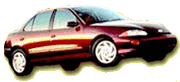 I'm also not too happy that the airlines don't include their fuel surcharges when they quote fares in ads or post Internet sales. Those can add $20 to the price of a round trip. And if Congress this week really allows airports to raise passenger taxes from $3 to $4.50 per flight segment, well, tack on another $18 to a round-trip ticket involving a change of planes. Talk about little murders! I know airlines don't add taxes to advertised fares, because they vary depending on how many stops you make. But the fuel surcharge is a flat charge. Not including it makes as much sense as that other favorite airline tactic: Quoting one-way fares for a sale that requires a round-trip purchase.
Thanks for listening, I feel heck of a lot better. But I gotta tell you, when I'm Transportation Czar of the world, there are gonna be a few changes around here. For now though, I'm just Rudy Maxa, the Savvy Traveler, for Marketplace.