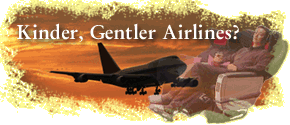 Kinder, Gentler Airlines?
by Rudy Maxa for Marketplace
Around this time last year, after passengers were stranded on Northwest flights that couldn't get to Detroit and Minneapolis airport gates because of snow, something called the "passenger rights movement" began. Congress huffed and puffed about the need to legislate good customer service. The airlines promised to do better, and the brouhaha in Washington subsided.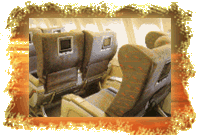 Then, in the last couple of months, weird things began to happen. I felt..I felt...well, as if in a dream! First, United announced more leg room in half its coach section for passengers paying full fare. Then, just last week, British Airways announced it would offer its business class passengers on long-haul flights seats that recline flat. That's something only first class passengers had previously enjoyed. A few days later, American gave its rivals heartburn by announcing lots more leg room in all its coach class -- an el cheapo, advance-purchase ticket.
I attended American's press conference in D.C., where the head of American, Don Carty -- who is a dead ringer for Jimmy Stewart -- admitted airlines have been in denial when it comes to the comfort of coach passengers. On stage with him was a mock up of a row of airline seats in the old, knees-to-your-chest configuration. With a flick of a switch, the seats expanded accordian-like to demonstrate how spacious things will be with the removal of a couple of rows. The difference between 31 inches of what's called seat pitch and the new gap that will be 35 inches is striking. American says half its domestic fleet will be converted by June. It made me wonder if the airlines hadn't suddenly swallowed handfuls of nice-guy pills.
So what's going on here? Well, the British Airways and American Airline announcements are meant to attract more high-paying passengers. American thinks with a roomier coach section, it'll get enough business to more than make up for the revenue lost by removing seats. Will you pay more for a ticket? Carty says no, but if more passengers choose his airline, there may fewer of the cheap seats available.
The announcement you might have missed last week is that beginning in the spring, you'll be able to earn American miles by buying on line via AOL and use miles to buy products on line. For frequent flyers who can't stand the thought of getting on another plane, that's big news. I'm not saying the airlines are getting kinder and gentler. Maybe they're just getting smarter.