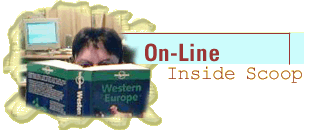 On-Line Inside Scoop
by Rudy Maxa for Marketplace
Anybody in the book or movie business will tell you that it takes great word-of-mouth for a new film or novel to succeed. These days, it's called "buzz," an unscientific term that describes a combination of savvy public relations and lots of people telling their friends about something. Twenty years ago, a husband and wife living in Paris began circulating among friends a private letter that reviewed restaurants. Everyone was invited to add comments. That couple is Tim and Nina Zagat, and eventually they quit their jobs as lawyers to become full time publishers of books about restaurants. Instead of offering the opinion of professional restaurant critics, the Zagat Survey consists entirely of diners' comments.
The same phenomenon now applies to such things as resorts and cruise ships. Unless you happened to know someone who's visited a hotel or taken a cruise on a particular ship, you've probably relied on guidebooks to tell you what was worth visiting. But now everyone can be a critic -- and they can broadcast their comments to the world.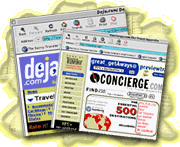 When I checked into the swanky Grace Bay Club in the Turks and Caicos in the Caribbean for a couple of nights recently, I met a couple who were staying there for two weeks. "How did you find out about this place?" I asked Mike Hartsky and his wife. Turns out Mike spent a lot of time visiting on-line sites like concierge.com and deja.com. That's "deja" as in "deja vu."
Work your way through a travel menu -- like the one on the savvytraveler.com Web site -- and you can find first-person stories by people who have stayed at most resorts in the world. What's more, you can then e-mail them directly if you want more information. That's what Mike did. He knew he wanted an all-suite property. He wanted luxury. He wanted a resort, not a condominium. The postings on the Grace Bay Club looked good, and he struck up an e-mail correspondence with a past guest.
When I looked at the Caribbean section of deja.com on Monday, the message boards were busy. And they were chock full of good advice. One couple wanted information on Playa del Carmen in Mexico, and several people who'd been there answered in detail.
I went to Anne Campbell's shipcritic.com Web site and found all kinds of write ups by people who cruise. There were 2600 postings on Carnival ships alone! I learned not to book Cabin 6100 on Holland America's Rotterdam because it's directly above the Queen's Lounge where shows are performed nightly. I learned about one ship that a passenger writes is overrun with marauding teenagers, especially over the December holidays.
And, of course, at zagat.com, you can join in the free-for-all and critique restaurants. But can you trust what you read? It's only too easy for a competitor to sabotage someone or some place. That's the difference between reading something by someone whose writing you've tested and trusted in the past and reading something by a stranger. You have to weigh the believability of what you read -- that's the price in this new age when anyone can be a publisher.