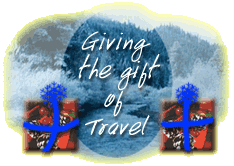 Giving the Gift of Travel
by Rudy Maxa for Marketplace
My mother, God bless her, is the worst gift giver I know. Ever since I've been an adult, she's picked one bad gift for me after another. So much so that we joke about it. I remember one Christmas -- shortly after my wife and I had separated after 15 years of marriage -- when my Mom gave me one of those mirrors with a Budweiser logo on it. The kind you see in the basements of fraternity houses. I think Mom thought it would go with my new, single life; I was 36 years old with two kids at the time.

When you get a weird gift from a family member, it doesn't really matter -- but wouldn't it be nice to deliver something that really lights up someone's face? If someone on your gift list hardly ever travels, a ticket to an interesting or romantic destination could be a hit. And there's a range of options for the frequent traveler, too.
When it comes to giving tickets, you have to specify travel dates if you're buying an advance-purchase one. And unless you're certain of the recipient's flexibility, you might wind up guessing wrong. If you have some frequent flyer miles to spare, request a certificate your lucky gift-getter can trade for a ticket. Either way, start planning now. Some airlines will charge you an expediting fee of up to $75 if you need a ticket or certificate for a third party in less than 21 days' time.
Let's talk about other interesting travel gifts. Guidebooks about a place you know someone is planning to visit. Or saving to visit. Coffee table books on exotic destinations. A tasteful silver clock in the shape of, say, a DC-3. Subscriptions to a travel magazine such as Conde Nast Traveler, National Geographic Traveler, or a newsletter such as . . . well, heck, such as "Rudy Maxa's Traveler." A year's membership in an airline's airport lounge system.

Here's another kind of travel gift: If you know that someone is going somewhere for business or, better yet, a vacation, arrange for a bottle of champagne or a plate of chocolate-covered strawberries to be waiting in their hotel room when they check in. Just call their hotel, charge it to your credit card, and the hotel will happily include a personal note from you.
Or some charge cards, such as American Express, will issue a "Be My Guest" certificate good for a meal at a restaurant of your choice. Choose one in the city your favorite person frequents on business or plans to visit for a holiday. This year, Amex introduced a restaurant card whose value you pre-determine -- sort of a pre-paid telephone card except it's good in any restaurant that accepts Amex cards.
Despite the bum rap it sometimes receives, travel can still be a luxury -- even frequent travelers enjoy an occasional perk. Keep that in mind as you puzzle over gifts in the coming weeks. Meanwhile, I've got an unused mirror with a beer logo on it I'll sell you real cheap.