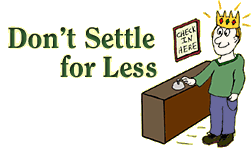 Don't Settle for Less
by Rudy Maxa for Marketplace
We've all checked into a hotel room and found it to be less than we'd hoped. But you shouldn't have to settle for anything you don't like. Like a view of the parking lot or that big air conditioning unit. Or a room next to the ice machine or across the hall from a fraternity reunion. Or just a room that's dismal, damp, and dreary. We've all been stuck in 'em. I've even had front desk clerks tell me, "Oh, Mr. Maxa, you're going to like this room!" as they've handed me a key.

I don't know if they thought the power of suggestion would work, but I've opened doors to find rooms that Dante would refuse. So what do you do to make sure that room you're renting for, oh, about half the cost of your monthly mortgage payment, is pleasant? First of all, understand you're competing with every other guest for the best room in the house as well as for the attention of the hotel staff. So if you're there for any special reason -- a birthday or anniversary, for example -- let the front desk know. Get them involved, give them a reason to treat you better than the next guy. If you just stand quietly in front of the desk clerk during check in, you might be assigned a great room. But if so, it would just be luck of the draw.
Remember, the receptionist sees what rate you're paying. If you snared a room through a hotel consolidator or got a bargain-basement price on, say, Priceline.com, your bargaining position for a top-drawer room might be limited. Then it's even more important that you be friendly and open; tell the staff how excited you are to be visiting for the first time. What you're trying to do is stand out from the crowd. If you're staying more than one night, you might not get upgraded that first night, but that doesn't mean they won't be willing to bump you up the next night.
Now if you're paying a corporate or full list rate, you have even more bargaining power. Engage the clerk in a discussion. Ask him or her to tell you about the room. How's the view? Are you in the renovated wing? Are there larger rooms available? That's a nice way of asking for an upgrade without using any words that might indicate you're willing to pay more.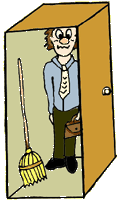 Of course, nothing is guaranteed in life, even hotel rooms for which you pay in advance. If you find you're stuck in a broom closet, don't be shy about returning to the front desk and, with a nice smile, asking what other rooms might be available. Your hand is always strengthened if your quick visit to your assigned room turns up an immediate negative. Peeling wallpaper. Noisy neighbors. A clattering air conditioning or heating system.
The absolute ace in your hand is when you enter a room that's already occupied. It happens more often than you think. Even if it's just some guy snoring, play it up to the hilt when you return to the front desk. Roll your eyes, as if to suggest you were forced to witness unspeakable acts, subjected to a trauma that might only be soothed by, say, a suite and a bottle of champagne?
The important thing to remember is you don't have to accept the first room you're given any more than you have to buy the first car you see on a dealer's lot. If it takes three or four visits to different rooms until you're happy, well, so be it. Insist on satisfaction -- it's your head on the bed.