Best Route to Cheap Airfare
by Rudy Maxa for Marketplace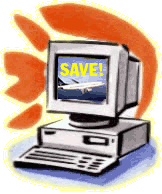 The most often asked question our Savvy Traveler, Rudy Maxa, gets asked is this: "How can I get the very cheapest airfare?" So we decided to ask him ourselves.
I'd love to be able to answer that question. The problem is, there's no correct answer, though the hype about on-line fares might suggest the Internet is the way to go. I'm partly guilty for that, since I've spent a lot of time talking about the weekend specials that airlines offer on-line.
But I think it's time to put the Internet frenzy into perspective. Yes, the web and email are great, low-cost ways for airlines to let you know about last-minute deals. And, yes, online travel resources such as Expedia, BizTravel, and other "dot-coms" are great places to check out competitive fares and buy your own tickets. But let me remind you that sometimes, someone who spends all day figuring out airfares can do a better job than your computer.
Let's consider the poor travel agent, whose commissions have been slashed by the airlines. A good travel agent can tell you that you might get a cheaper fare to or from Washington, D.C. by considering Baltimore-Washington International Airport instead of Dulles or Reagan-National. That Providence is a low-cost alternative to Boston's Logan. That Orange County or Burbank might cost less to fly in and out of than Los Angeles International. Ditto Oakland rather than San Francisco, Ft. Lauderdale instead of Miami. And if you establish a personal, ongoing relationship with a travel agent, they should work extra-hard for you.
And what about calling an airline directly? Well, the biggest downside is the airline reservations person on the phone won't compare fares on other airlines for you. However, if it's a cheap ticket you're after, always begin your conversation by telling the telephone rep exactly that. Make it clear cost is a primary consideration. So he or she might dig deeper to find you a special fare. Or an agent might suggest an early or late departure or an alternative airport in order to save you a few bucks.
So what about online tickets? The second most often asked question I get is: "Which online service will find me the cheapest ticket?" There is no right answer. But I was surprised when, for this month's Savvy Traveler newsletter, we tested seven online ticket providers. We asked for both an advance-purchase as well as a last-minute ticket between D.C. and Chicago. Listen to the dramatic difference in prices: For the advance purchase ticket, Travelocity found us an $88 round trip; compare that to $298 that BizTravel.com came up with. For a last-minute ticket, five of the on-line providers kicked out a fare of $1,129. United Airlines' Web site, however, offered us a $681 ticket...on TWA! B-eeee-g difference!
What's my favorite description of the airfare game? Right -- it's a crapshoot. I can't think of any commodity that can vary so widely in price all the time. Like I said, there is no one foolproof way to find the cheapest air ticket. Shopping around has never been more important.