Hotel Phone Charges
by Rudy Maxa for Marketplace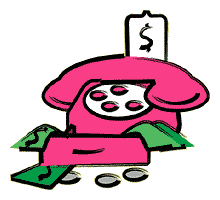 When a Commerce Department employee named Don Druker checked out of the Hyatt Regency at McCormick Place in Chicago not long ago, he was startled to find he'd been billed $5.73 each for making 21 local calls. Druker was especially surprised because none of those 21 phone calls ever connected. No one answered. No voice mail answered. Nothing. No one. Nada.
Welcome to the latest attempt by hotels to make the room telephone a major profit center. We're all familiar with the 75 cent or $1.25 charge some hotels nick you for when you make a local call. And a couple of years ago I alerted you to the growing trend among American hotels to bill you by the minute for local calls. But until Don Druker sent me an e-mail, I'd never heard of a hotel billing you for an uncompleted local call. And until I called the Hyatt in Chicago, I didn't believe Druker.
But sure enough. The hotel charges an 86 cent access fee right off the bat. Then, while the phone rings, the meter ticks off 86 cents a minute. But Druker did the math. Phones usually ring in five-second cycles. For each of those unanswered calls to total $5.73--what a coincidence, by the way--he would have had to listen to ringing for six minutes every time. At six minutes per futile call, for 21 calls, he would have spent more than two hours listening to phones ring.
Didn't do it, said Druker. And I won't pay, said Druker. Eventually, the hotel's manager removed the more than $100 in charges.
Nowadays, I don't even use hotel phones. Not even for local calls. My cell phone is cheaper. If you must go online, find out if your motel or hotel charges by the minute. If so, you better not spend a lot of time in a chat room making new friends online. At 86 cents a minute, an hour online costs about $52.
As for places that charge you to dial a number that doesn't answer, well, I'd protest at the front desk. My guess is that until and unless a lot of other hotels start charging by the minute for phone calls that never connect, you'll find managers willing to remove the charges.
And, Don? All road warriors owe you a debt of gratitude for checking your bill so closely.